 'Kiss the Miss Goodbye' is the name of this hen party game and all you need is a few of your favourite lipsticks to play it.
We discovered this hen party game recently and thought it would be perfect for any glam-girl who loves her makeup. It's an easy one to organise and an easy one to participate in. It's a game that's suitable for all audiences, it's not embarrassing to take part in and everyone can do it.
It's more of an activity than a game per se. The idea is that all the ladies at the hen party apply a pretty lipstick colour and kiss the canvas. You can leave it with just the kiss marks or add your initials or a little message beside your lips. It depends on how many ladies are in attendance. If you have lots of lips to fit on the board you could leave it at just their initials.
How to do it
You can buy a kit to make your 'Kiss the Miss Goodbye' or you can take the DIY approach. This beautiful kit is available from TandemGreen on www.etsy.com. They are €12.36 plus delivery and they deliver to Ireland.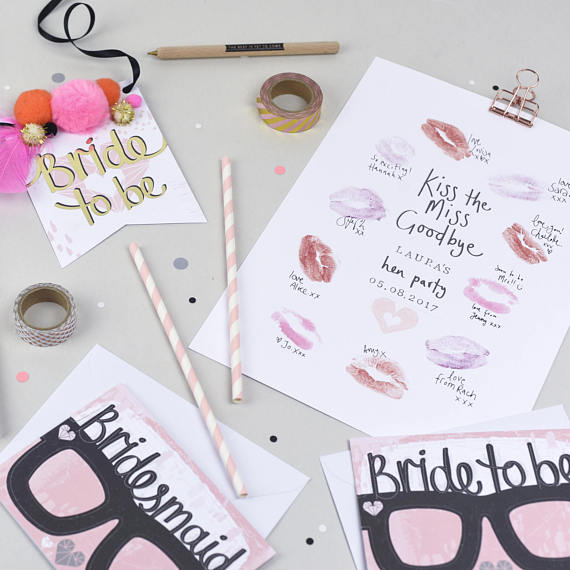 Advertised
If you choose the DIY option, either get a canvas board available from Sostrene Grene or a good arts and crafts shop. On the night, leave out some lipsticks. Nice bright colours like coral, lilac and red make a pretty combination. Matte lipsticks will work best because they are least likely to smudge and leave a clear print on the page. Then, everyone just chooses a colour and put it on before kissing the page or the canvas.
You could glue a picture of the bride to the centre of the canvas, then the ladies kiss around it. Or you can print a message on a just a sheet of goood quality paper. All the ladies kiss the paper and then you can frame it afterwards.
Advertised
This is a lovely activity that will leave the bride-to-be with a gorgeous keepsake from all her chicks. The bride can keep it forever as a reminder of her hen night.