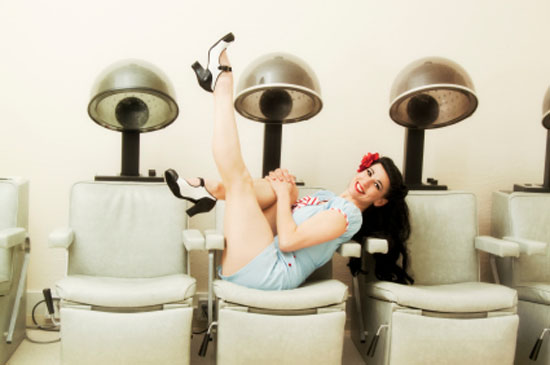 On the first weekend of December, while The Big Snow was still raging all around, myself and Himself stayed in Dublin for the weekend. It was the  beginning of our Christmas meet-ups with friends and I kind of accidentally went to town a little bit on the preparations.
Knowing that it would last a week no matter what I threw at it, I treated myself to a manicure in Mink in Ballsbridge, DARTed out to Ellen in Waxperts for some, well, waxing... and then discovered that the hairdryer in our room was one of those hoover-nozzle jobbies mounted on the wall in the bathroom.
To make matters worse, I'd apparently forgotten that I had a head on me when packing for the weekend. I hadn't brought my GHD, barrel brush, backcombing comb, hairspray, or my Schwarzkopf thickening and root lifting Dust It powder, which meant that my hair options were going to be limited to limp ponytail or limp, strealish, hanging-in-face flyaway hair. Desperate to bag a last-minute wash 'n' blowdry appointment but lacking the time or inclination to skate anywhere in my wellies, I rang down to the Blow salon in D4 Hotels.
They could take me at 5.30pm, and although I was fairly bloody annoyed with myself for forgetting all my blowdrying accoutrements, at least I wouldn't have to rock up to my first Christmas party of the season with rotten limp locks.
And I thought that at least I could get maximum bang for my unforeseen expense buck by asking for the kind of good big curly blowdry that I can't ever manage to do myself.
Advertised
First impressions weren't great, to be honest. The salon is located off the main hotel lobby, and is basically a couple of rooms off a central corridor that runs almost the full length of the place. So far, so not that unusual, but what really struck me was how untidy the salon rooms felt. The first room housed a couple of manicure stations, and there was a woman at one of them having her nails done, but from the number of hairdryers and their cables that were strewn around the place, it looked to me like somewhere that might also function as a blowdrying suite.
Which would be alright if you were in for a blowdry, of course, but a bit crappy if you were treating yourself to a nice relaxing mani.
Ceiling tiles and frill-free decor coupled with a general air of untidiness don't make for much of an atmosphere, but you might be prepared to put up with that if the place was good and you were just stopping in for a quick blowdry or file and paint between the office and the Christmas party. The girl who did my blowdry was lovely, and while I was very pleased with its wavy ways initially, it really didn't last. After a couple of hours, there was just a little movement left in the ends - it didn't go completely straight - and the roots were back to their normal pancake flat state.
Once I got into a glass or two of wine and found another beauty-mad girl in the group, we reckoned that I would've done a better job myself with a Babyliss Big Hair yokie.
Of course, I would have to have remembered to pack it ...
Get Beaut.ie Delivered
Stay updated with Beaut.ie newsletters full of the latest happenings at Beaut.ie as well as great offers and things we think you might find interesting .