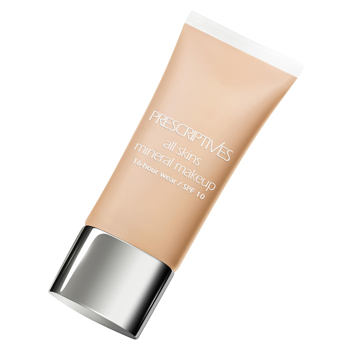 Oh, the things I do for Beaut.ie. 'Tis a terrible hard old life altogether, getting samples of stuff and checking out their goodness properties.  And it's all for you guys. Ok, ok - a little bit of it might benefit me, too.
Prescriptives managed to sway me from my stern 'I hate minerals' stance when All Skins powder launched last year. Now they've liquidised it, and I'm glad to see that because while I did - and do - genuinely like their powder foundation, I'm still a fluid kinda gal at heart. It just suits my skin better. The new fluid All Skins Mineral Makeup isn't on counter until August 1st, but I thought I'd tell you about it now so you could start saving.
DoubleWear Light fans will really like this, I think - the coverage is very good - more than medium, though a good bit less than full - though it's best applied with your fingers. My MAC 187 brush didn't like it and didn't want to buff it in at all, but fingies did a fine job. You don't even need to set it with powder either, if you don't want - it quickly turns to a nice matte finish, making it a keeper for oilier skins.
There'll be 18 shades on offer, in cool and warm tones (see, this is why I like this brand so much, they really take the confusion out of beauty-buying) and I was matched to be Level One - Cool, which perfectly mimics my Casper The Friendly Ghost complexion.
Advertised
The product also promises 16 hour wear, but I didn't test that aspect of it because I think wearing makeup for that amount of time is pretty ganky on a regular basis. It does last, though, and it's non-drying. I generally fall out with foundations that don't suit me after just a day, because my face goes into Saharan-mode, and that's that.
A non-chemical SPF (that'll be the minerals, so!) provides a factor of ten and makes this a more suitable buy for a sensitive skintype than a product containing a chemical version, so plus points there too.
All in all, I rate this as a good buy, and at €38 for 30ml, not hideously expensive either.