 Ah, beauty trends - do you follow them religiously or do you like to research them online simply to guffaw and shout 'As if I'd wear that!' at the screen?
To be honest, I lie somewhere on the fence. I wouldn't copy them to a tee, but often they can be quite inspirational if I want to try something new. The best part about trends is how many makeup companies cater to them and so, if say, orange lipstick is seen on the catwalks (and it was), many brands will release orange lipsticks as part of their summer collections. Amazing if you happen to be a fan.
One trend from the catwalk that has recently caught my attention is the false lashes and white liner trend. It gave the models an almost ethereal appearance. Lashes were applied on both top and bottom while the rest of the eye makeup was kept minimal. Sometimes a slick of white liner was used on the lower waterline to give a wide-eyed appearance. And at London Fashion Week, both Holly Fulton and Jean-Pierre Braganza, teamed the double lash trend with a wash of pastel lavender.
Okay, you probably won't see me rocking lavender eyeshadow any time soon but I am a huge fan of falsies. I definitely do not wear them often enough, but this trend has inspired me.
Advertised
I recently tried the new individual lashes from budget brand, Catrice and absolutely fell in love with them. They're a steal at €4.49. The trick to applying individual lashes to yourself is to look down into a mirror and sort of drop them on top of your own natural lashes. I find it easier if I pick them up with a tweezers and I can also use the end of it to press the lash into place or nudge it if it goes in the wrong direction.
If you are new to the world of false lashes, a strip lash is probably your best bet as it is much easier to apply. Look for one with a clear or very thin lash band (the part that you put the glue on) as the smaller it is, the more pliable when applying AND the more lightweight it will feel on your eye.
Some of my favourite strip lashes include Ardell's Demi-Wispies (€7.39) for a very natural look with a little added dimension, or Girls Aloud for Eyelure Lashes by Nicola (€8.39) for some flirty, fluttery ones.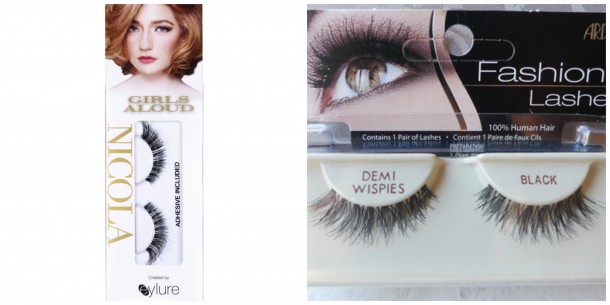 One of the main issues people have when applying falsies is that they don't allow the glue to dry for long enough. Apply the glue to the base of the lash and leave it to dry for 30 to 60 seconds until it becomes tacky. It then sticks immediately to the eye and doesn't slip and slide all over the place. It is also really important to trim them to fit your eye as they can be really uncomfortable if they are too long (not to mention they can look ridiculous).
Advertised
So let me know, is this a trend for you? Do you often wear false lashes? Will you be breaking out some fluttery eye-movements this weekend? And what are your tips and trips to apply them?