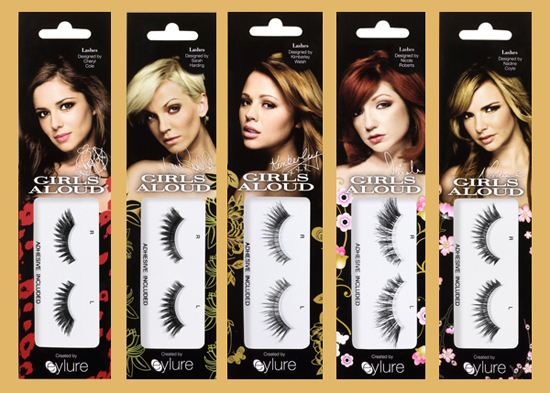 Umm... so is it really, really wrong that I gave a little shriek of excitement when news that the Girls Aloud/Eylure collaboration is now in store arrived in my Inbox?
That's right, you can now get your sweaty li'l paws on those falsie eyelashes designed by Cheryl and Co. that we gave you the heads up about away back last month. Priced at £5 a pair (so probably what, €40?) and currently available in Superdrug*, they'll be available to buy online from ASOS.com from April 20th. (And I know adhesive's included, but invest in a Daycent Eyelash Glue to stop them springing free of your lashline and drifting down your cheek and into your cocktail while you're fluttering away like some demented butterfly.)
Given that she's the best known lash wearer of the group, I was expecting to be lusting after La Cole's offerings, but actually it's Kimberley's and Nicola's lashes that I'm considering splashing the cash on. Long, delicate and fluttery looking, they're my kind of falsies. The other three pairs look a bit too dense and spiky for my liking, now, but overall I'm pretty impressed by the range - more subtle and less showgirl than anticipated.
Advertised
Good job, ladies!
* R.O.I. Superdrug stores: Santry, Tallaght, Wexford, Limerick, Letterkenny.