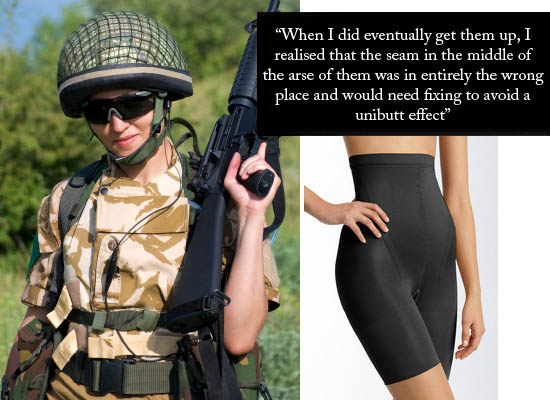 A body con gúna calls for seamless underwear with a little bit of sucky-in power, so when I had occasion to wear just such a frock to a wedding last week I knew that it was time to dig out my old reliable Spanx.
There was just one problem with that plan: I couldn't put my hands on them.
So I ducked into Brown Thomas to grab a replacement pair. Reasoning that my own bicycle short-stylee numbers were in the flat somewhere and would turn up eventually, I decided that I might as well expand my Spanx wardrobe with a slightly different version. That's how I came to be the owner of a pair of Super Higher Power Spanx, €39. These ones start just below the boobs and go about three-quarters of the way down the thighs, promising to hoick up the arse while sleekening the rest of the silhouette.
Grand job, I thought, and promptly forgot all about them until it was time to get dressed for the wedding. Getting into the new super Spanx was a bit of an ordeal; I genuinely broke a sweat struggling to pull them into place. When I did eventually get them up, I realised that the seam in the middle of the arse of them was in entirely the wrong place and would need fixing to avoid a unibutt effect. More struggling and sweating ensued - at this stage, there may even have been some swearing - but at long last all the seams lined up and it was time to put on the dress.
Well, frankly it looked brilliant! Not a line to be seen anywhere, the end result made all the effort seem worthwhile.
Advertised
A couple of hours later, it was a rather different story. The band at the top of the Spanx was really uncomfortable and felt like it was slowly gnawing through my ribcage, and on a visit to the loo I noticed that, while there was no unsightly VPL to be seen in the arse area, my dress was bunching up around the band at the top and sticking to the fabric of the Spanx.
While the lads at our table gassed about how hot it was and threatened that they'd have to take off their jocks if they didn't cool down soon, I headed back up to the room and tried to right my Spanx.
No joy.
WellFECKITanyway! I thought as I peeled myself out of the Spanx and got changed. When I discovered that the outline of every other pair of knickers I'd brought were plainly visible through my (very fitted, below knee-length) dress, I gave up.
And you thought I was just being dramatic with the title of this post ...