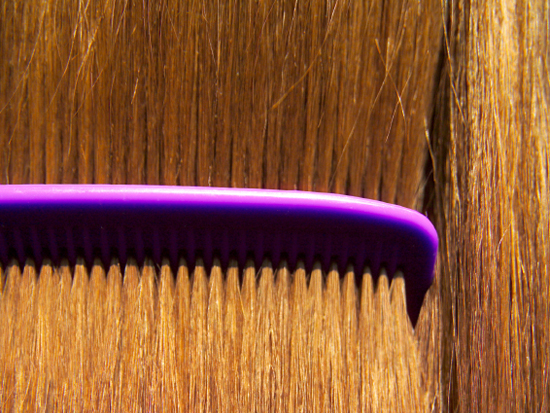 Summer, or "peak Bridezilla wedding season", is nearly upon us. Recession or no, there'll be a massive upsurge in salon visits over the next few months as women around the country hunt down the best of the best fake tan, gel nails, manicures, pedicures, eyelash extensions and bodywraps in a bid to look their very best on the big day and show their exes just how fan-feckin-fabulous they are.
And that's just the guests.
Ladies who have a rake of weddings coming up and who wish they could swap their curly, wavy, or otherwise unruly hair for lustrous and silky smooth locks to swish in the faces of said ex-partners could do worse than take themselves off for a spot of hair relaxing or permanent hair straightening.
Probably the best known process and the one that's been doing the rounds for a number of years now is Yuko chemical straightening, which can require hanging around in-salon for up to 6 hours. Originally developed for Japanese hair, results generally last for about 8-12 months and it's a truly permanent solution in that it actually grows out. Which means that root touch-ups to tame regrowth are an absolute necessity unless you're a fan of a frizzy roots/sleek ends look. Price varies depending on hair length and texture, but expect to pay upwards of €300; a head of shoulder length, wavy, not mad-curly hair will cost about €400-€500 to have Yuko-ed.
Advertised
If you're not sure that you could handle the expense, hanging around, or commitment demanded by Yuko but would still sell your ma for a manageable mane, worry not! The Permanent Blowdry (or PBD for the acronym fans among you) goes by a mind-numbing multitude of monikers. It's also known as (deep breath) The Everlasting Blowdry, The Brazilian Blowdry, The 12-Week Blowdry, The 3-Month Blowdry, the Brazilian Keratin Treatment, KeraThermie straightening, and the Tanagra Nanokeratin Treatment, depending on who's doing it, what products they're using and which way the wind is blowing.
Discovered in Brazil and pioneered this side of the world by Daniel and Luke Hersheson, it's a non-chemical process and is semi-permanent, wearing off over 2-4 months rather than growing out. Hair is washed, a relaxing treatment containing keratin is applied, hair is blowdried and then straightened using irons; the process itself takes beween one and two hours but there's also a 3-4 day at-home aftercare programme that needs to be followed to ensure optimum results. For the few days immediately following the treatment, you shouldn't wash your hair or swim, tie it up into a ponytail, use hair bands or clips, pull your hair behind your ears, use your glasses to hold your hair back, or use styling products. Fans like Gisele Bündchen swear that it conditions hair  from root to tip, and unlike Yuko, hair can still be styled into a wave or curl that will hold after the treatment. Like Yuko, price is dependent on hair length and texture and ranges from about €150 to €300.
And if you're more of a DIY-stylee risk-taking kind of girlie, you could always have a nose at Boots home straightening kit...
Brown Sugar, Wilde, and Cowboys and Angels all offer chemical hair straightening. The Permanent Blowdry is available at Dylan Bradshaw where, FYI, it's called The 12 Week Blowdry.