 The ever-so-glamorous Dita Von Teese is a perfect style icon. It's not enough that we're all sick with envy thanks to her flawless looks (see us rave about her ArtDeco makeup collection here), but now she's launched her own fashion line which is equally fabulous and even makes us hate her just a little bit, just because it's so gorge!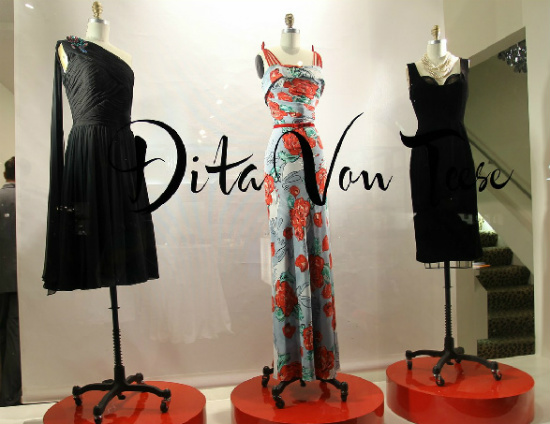 Her debut collection is stunning, sleek and very, very classy. It is also completely unlike her stage costumes. The iconic burlesque performer shows off her hourglass, to-die-for figure in a range of ultra feminine, classic  dresses and a coat that yours truly would kill for. The starlet looks like she's come right out of Hollywood which I'm sure, was the desired intent.'The Dita Von Teese Collection' which comprises feminine retro-inspired dresses - was first launched in Australia earlier this year and then in the USA in October. Each of the flattering looks harks back to an age when glamour was a priority – which sums up the star completely.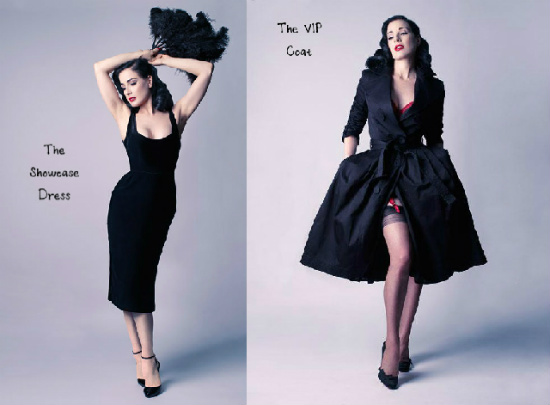 It's only now that we're getting a peak at the detailed items from the line, and though black features heavily, the clothes look so divine that we'll forgive her for only adding a splash of colour to the collection thus far.
The initial collection features five standout pieces like the "Follow me" and the "Second Look," and a tulle-lined full–skirted trench coat, the "VIP Coat," all of which Von Teese named personally. Further distinguishing the collection, each style is available in a vast range of sizing up to U.S. size 16. She said it was very important that her collection could cater to all shapes and sizes: "Offering styles that cater to women of all sizes is very important to me. The collection is designed to complement a multitude of body shapes, so every woman can celebrate her natural beauty and feel sexy in a gorgeous dress."
Advertised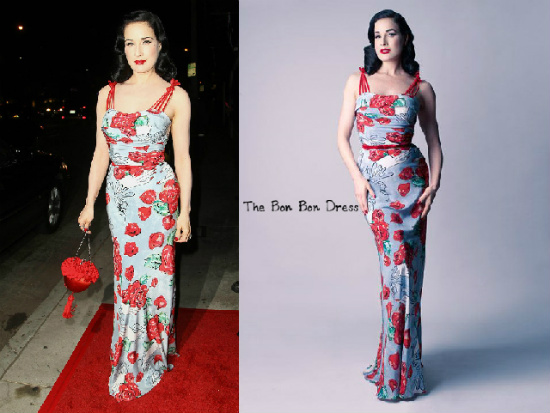 Ms Von Teese spoke to VogueUK earlier this month about the collection and says that she loves the whole vintage look, and it was shopping in these vintage shops that inspired her collection.  "Vintage stores are where I buy all my clothes," she says.  "I love the thrill of the hunt." The collection only has a few statement pieces so far, so I'm hoping she adds more in the future. Though the collection is clearly high fashion, I could easily see myself wearing a dress or two.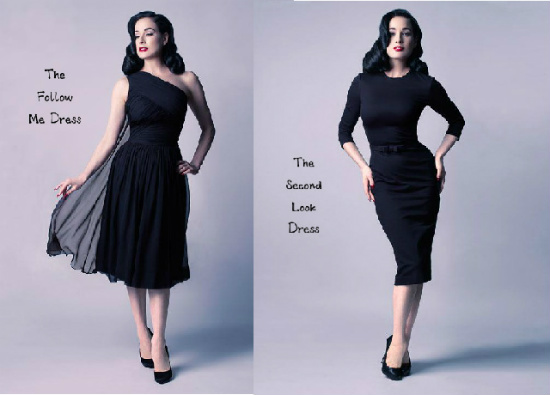 The collection is unfortunately not one to buy if you're on a budget - the minimum you must pay per piece is $350 going right up to $995 - but the clothing is so darn gorgeous that I'd buy the lot if I could! Whether I'd look as good as Dita in the dresses however is another story. For those interested in where to buy, www.shopdecadesinc.com has the entire line (which also features an alternate 'Tyrst Trench Coat' exclusive to the site), and they do ship internationally.
What do you think of the collection? Would you save your hard earned cash for a statement piece? Let us know in the comments below!