 The latest product from Neutrogena isn't a cream or a gel. It's a device that could change your entire skincare regime
We were quite surprised to hear that Neutrogena's latest skincare product was a physical product rather than a cream. However, since Neutrogena is well known for its Visibly Clear range, it's not like it doesn't make sense. The Light Therapy Acne Mask is the first of its kind to reach the at-home market. We've researched it, we've spoken to the experts about it, we've spoken to people who've tried it, and we've come to the conclusion that it's very exciting indeed.
Targeted at people with mild to moderate acne, the Light Therapy Acne Mask is not as scary as it may look (although you will have fun freaking people out when you wear it. Trust us). It actually uses technology developed by NASA who found that LED light therapy helps with the 'wound-healing process.'
How it works
You put the mask on like it's a massive pair of glasses and wear it for ten minutes at a time. When it's on, it uses both red and blue lights to treat acne. The blue light kills bacteria; the red light reduce reduces inflammation.
Advertised
The mask launched a couple of weeks ago, and we went along to chat with social media star Maeve Madden who tried the mask for a month and loved the results. We also spoke with Johnson & Johnson skincare expert Rebecca Bennet, who explained the science and showed us how to use it. It's so easy, by the way, and because the 'ingredient' is light, it's 100% chemical and fragrance-free. It's UV-free, too, which is important to note. Another important thing for so many people is that it's suitable for sensitive skin.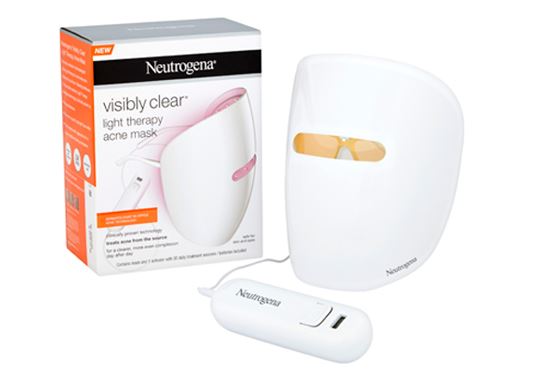 LED therapy isn't a new way to tackle acne; it's been around for ages. Until now, though, it was only really available to people who had the time and money to visit the pros. That's why the Light Therapy Acne Mask is so cool. It uses the same dermatologist clinic technology, but at a weaker strength so that it's safe enough to use at home. Every day.
It's pretty affordable, too at €76.99 and the initial price will include the activator, which turns on the red and blue lights. Each activator has 30 ten minute charges (30 days worth) so you will have to replace it when those charges are up, but a new one will only set you back €18.99.
I have one at home, and I will be using it. As you might already know, I am obsessed with masks, and this, friends, is like an acne-fighting sheet mask on speed.
Advertised
The mask and the separate activators will be available from pharmacies nationwide from the end of October.