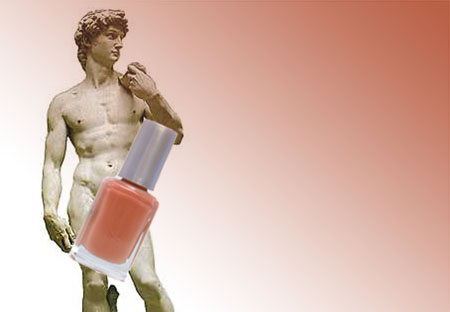 As Aphrodite, Roisin Dubh and I ate dinner before the Sex and the City Launch last week, I was admiring a lovely new polish I'd just picked up in Nue Blue Eriu. "Mmm", says I, "I do love a nude nail". Mishearing me, Roisin spluttered, "NUDE MALE!?", to which I replied, "ah sure I like them too, but isn't this polish only fab?".
We all agreed that it was indeed very nice (and I might even venture to say, nicer than a fella in his nip) and so I thought I'd tell yiz all about it. A sheeny beigey-brown, the shade is called Tiramisu and looks only fabillis on short-ish, squoval nails.
Advertised
I'm loving it anyway and you can too - bag your Nue Blue Eriu own-brand polish for €10 and enjoy nudey nails this summer. And sure, you can enjoy a few nudey males while you're at it too, wha?