 Glittergirl went to the Spa in the Marriott last week and I asked her to tell us how she got on. Neither myself or Kirstie have been, but anyone who has gone raves about it. She had some of their signature treatments while she was there: gorgeous Elemis body treatments. I'll let her take it from here.
"The husbag got me a voucher for the Marriott for Christmas, cos I had been going on about it since I went there on my hen weekend last year. He probably did it to shut me up from going on about it... but am sure there was love involved there somewhere."
Of couse there was Glitter you cynical thing!
"The Spa is like heaven in my head, candle lit with a waterfall along the corridor. All the rooms are named after aromatherapy oils, jasmine, geranium and so on, and people are wandering around in their robes talking in hushed voices. The whole atmosphere is SO relaxing and serene.
"I arrived about 30 minutes early for my treatments, cos I wanted to use the thermal suite (the Aroma Steam Room, the Finnish Sauna and the Caldarium). I absolutely LOVE the Caldarium cos when you close your eyes it's like being on holidays with the sun shining on your face. The temperature is perfect.
"I was having the Serail Mud/Milk chamber treatment. I have had this before and I can honestly say it is one of the nicest spa treatments I've ever had.
"It starts with a light body brushing and a Devils Mint Body Scrub. You shower off the scrub, and when you're dry your therapist will apply the mud. There's two kinds: a coffee brownish one for the body and a whitey/grey one for the face. My therapist, Joy, got me to apply my own to my face while she did my body and then she gave me the rest of the brown mud to take into the Serail bath with me.
Advertised
"The Serail bath is tiled and there are 2 seats carved into the sides (it almost looks like it's carved out of rock). The lights change colour constantly and soft music plays. The air is hot, to dry the mud onto your skin. After twelve minutes aroma steam is vaporised into the room and the mud is moistened while you massage it into your skin. The steam turns on and off for about 15-20 minutes and then the tropical rain shower starts and you wash some of the mud off. Joy brought me back to my treatment room and I had another shower to wash the remainder of the mud off.
"You then dry yourself and get up onto the bed (which is covered in tiles and heated) and lie on a foil sheet while your therapist applies warm frangipani oil all over and then wraps you in the foil and a towel to keep the heat in. A head scalp massage ensues. Pure b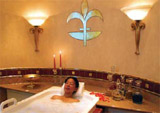 liss.
"After my mud, I was taken to the Bathing Therapy room where another therapist explained what my next treatment would entail.
"The lights were lowered, the candles were lit and the bath was just the perfect temperature. When I got in first I found the bath really noisy and was wondering if I was going to relax at all but after a minute or two I hardly noticed it and started to relax. It was in a word lovely. So relaxing and made me wish I had a Jacuzzi bath at home in my house (wonder could I swap the husbag for one?).
"After another few minutes in the relaxation room Joy called me for my massage. She asked me if there was specific areas I wanted her to work on and we got started. Her pressure was perfect (I normally would have to ask for more or less pressure) and she know exactly how deep she could go. It was divine and I was practically comatose when she finished. Joy put my slippers into the heated cabinet for when she had finished and it's the little extra touches like that that make her stand out in my mind.
"I went back to the relaxation room for a few more minutes cos I was in no fit state to drive and had a little sleep.
Advertised
"Then I went on home, back to the mundane things in life like going to the butchers and cleaning the kitchen."