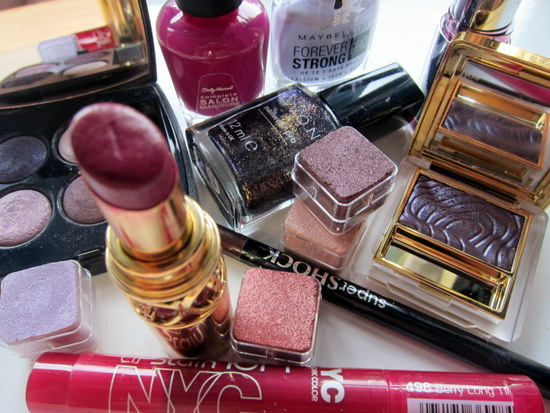 Purple has been big news on the catwalks for the autumn collections, and as always the beauty world has followed suit. Some variation of purple has snuck into pretty much all of the new season collections we've looked at so far - like here and here! Don't fancy waiting till they launch? I've had a rummage through my stash, to show you some great purple picks you can get your hands on now.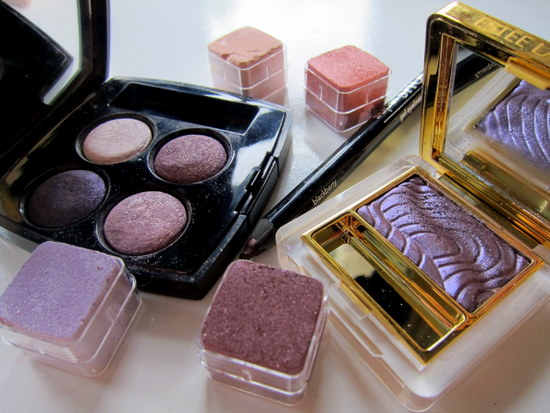 EYES: This Chanel quad in Vanites  - re-released last year as part of  Chanel's Sophisticated Eye Collection - has everything you need for a soft smokey purple eye, including a very light pink, lavender, duochrome purple/gold and a dark violet.  These are quite sheer and shimmery - it's €46 for the lot. A less pricey alternative is the Lily Cole shimmer cube from the Body Shop, €24.95  - read our full review here - which includes very similar shades and is more strongly pigmented.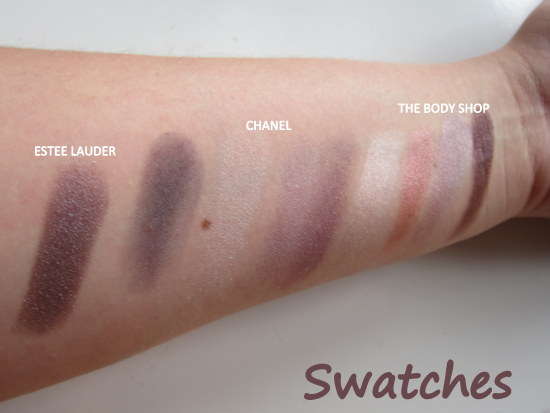 If you just want one colour on your lids then this Estee Lauder Cyber Eyes shadow in Cyber Lilac is lovely and would flatter most skintones. This is €24. And for a brilliant purple liner that deserves a place in everyone's make up bag, look no further than Avon's Super Shock gel liner in Blackberry, €8.
Advertised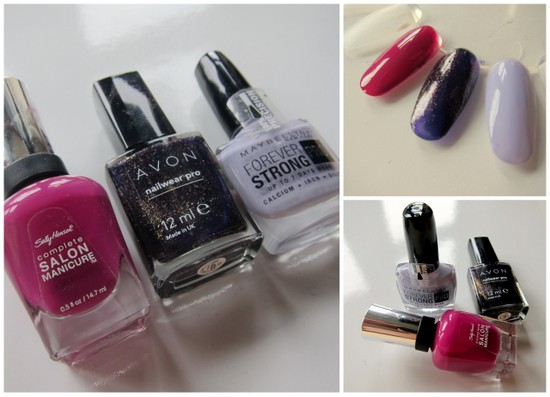 NAILS: Sally Hansen have brought out the brilliantly named Cherry Cherry Bang Bang (below), a unique warm plum shade that's part of the Complete Salon Manicure range. It's €8.99 and it's insanely pretty so check it out if you get a chance. Violetta Sparkle by Avon, €8, is also lovely - a deep inky violet shot through with gold shimmer.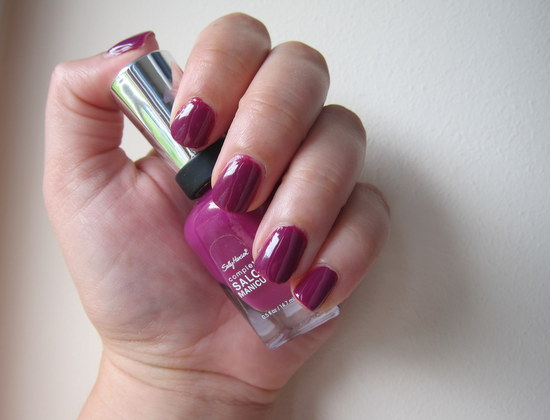 If these are too dark for you right now - it's supposed to be summer after all - check out Lilac Charm, €5.99 from Maybelline's Forever Strong Pro Porcelain line. It's not only lovely to look at, but the wear time's fab, too.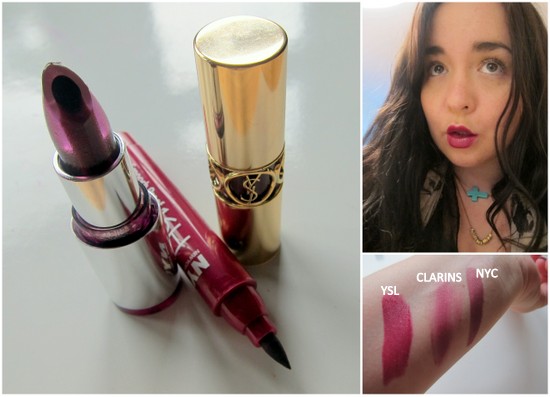 Advertised
LIPS: For lips, my favourite purple is this YSL Rouge Volupte lipstick in #12, Forbidden Burgundy - I'm wearing it in the pic above. These are €31, but they're amazing - see here for swatches galore. If something sheer is more your bag, this Clarins Crystal Balm in Crystal Violet is really lovely - it was part of the brand's summer collection and costs €20.33. For something long lasting, I really like  NYC's Smooch Proof Lip Stains, €3.99, and as the name implies this one, Berry Long Time, is a great berry shade.
Any more great purple products? Share 'em in the comments!