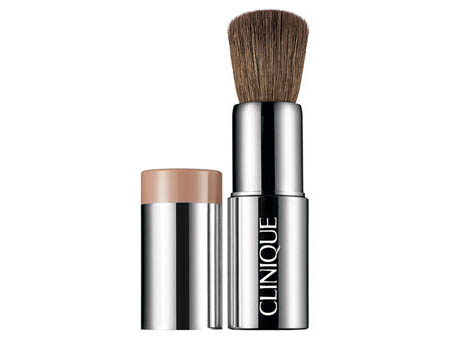 We've been having a great run of luck with Clinique round these parts recently - my winter-ravaged skin's been lapping up the aptly-named Comfort on Call and the new spring makeup collection, First Blush, is also very pretty. I've found the star of the show: it's the new Quick Blush (sounds a bit like something from Harry Potter) and it comes in six shades, nestled inside sleek chromed packaging.
How does it work? It's a wee bit fiddly till you get the hang of it, but basically you twist up the brush into the lid - where the blusher lives - a good few times till you've got a good load on it. Tap or blow off the excess, and you're good to go. The bristles are nicely packed and soft, so there's no scratch-factor to let the side down. Just watch your blending, as it's about 2/3 the size of a regular blush brush, so hard edges are likely unless you're careful.
The one I'm trialling is called Hurry Honey. It's a muted peach which is a nice change for me from my usual bright pinks, and looks particularly good with red lips and soft golden brown eyes, too.
Advertised
All that goes some way to justify the price, I reckon, as it's steep at €32 - the Sterling equivalent is £20.56. It would be really nice to see beauty brands - not just Clinique - responding to the changes in the exchange rate so that their Irish customers could benefit.