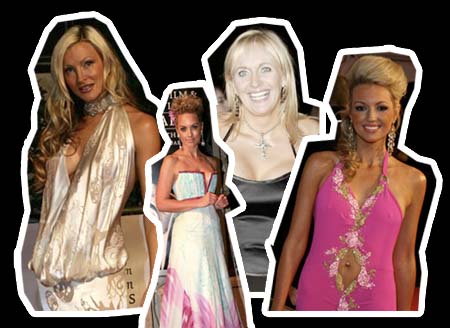 As xgirl flagged in her recent post about the Golden Globes, awards season is upon us once again. But it's not just out in forren parts that they do hold these ceremonies, y'know. Oh no. Our very own sparkly, glittery, shiny, 6th Annual Irish Film and TV Awards (complete with proper red carpet, swit swoo) will be taking place on 14th February and I for one am looking forward to it. Of course it's always great fun oohing and aahing and sometimes ewww ewww ewww-ing over the frocks that turn out for these things, but it's a much more personal affair when the talent showcasing the gúnas are Irish. Every Lovely Girl looking well in the red carpet snaps makes us beam with pride; every not-so-successful, Christ-on-a-bike-what-was-she-thinking outfit feels nearly like a national affront.
Whatever the fashion's like, Michael Doyle of Peter Mark will be the man charged with making sure the gruaig's all right on the night: the stylist will be responsible for many of the celebridees 'dos and reckons that we'll see hair worn in one of two ways for the ceremony. He predicts that sleek, sophisticated, super-groomed knots and chignons or 'self-styled hair' (basically the hair version of 'no make-up' make-up), with tresses worn either in loose buns or free-flowing and wavy will be the order of the night. Niiiiice.
Now, TV3 have cast a bit of a shadow over the event - the cheek! - by announcing last week that they'll be boycotting this year's IFTAs in protest at what they see as the unfair weighting of the whole shebang in RTÉ's favour. Commenting on the decision not to put forward any nominees, a spokeswoman from TV3 pointed to the fact that the station has not received one award for in-house programming in the last five years of the IFTAs, and said that they feel this is down to the RTÉ-lovin' judging panel and does not reflect viewers opinion.
Advertised
As you might expect, there's lots of rumours and speculation on the Interweb about the whole affair. It's thought (by The Herrteld) that the girls of Xpose are to be told by top brass to steer clear of covering the awards bash, while a commentor over on The Dubliner speculated that the real reason TV3 are shunning the awards is because the ceremony's held on Valentine's Day and the broadcaster is full of canoodling couples who'd rather hole up (ehem) with their lover for the evening...