 Welcome back to our Rookie Bride series. From now until she eventually gets hitched (which could, in fairness, be 2047) Miriam will be keeping you up to date on her bridal diary, every second Thursday. And please, before she falls into a black hole of tulle, gold markers and party favours, join the conversation and share your thoughts. Last time, we spoke dresses, and gave a few example of some gorgeous ones for brides on a budget, and today we're trying to avert potential makeup disasters. 
Has anyone been watching season five of Girls? I have, and I'm going to give away spoilers, so if you haven't seen it but want to, stop reading now.
OK now, let's get gabbing about the very first episode. Marnie got married! God, but, she is such an annoying character; I still kinda love her, though, especially that episode; she was so real. It was scintillatingly cringe as she played true-to-life bridezilla, but my favourite was her interaction with Dee Dee, the makeup artist, who she was the definition of hate-nice to.
Dee Dee was absolutely the wrong artist to hire, her aesthetic was always going to be completely different from what Marnie wanted (she worked on rockstars, for God's sake! Well, Selena Gomez. Actually, that's probably wire Marnie hired her), but what left me in-my-mind speechless was that she didn't have a trial! How could Marnie not have had a trial?!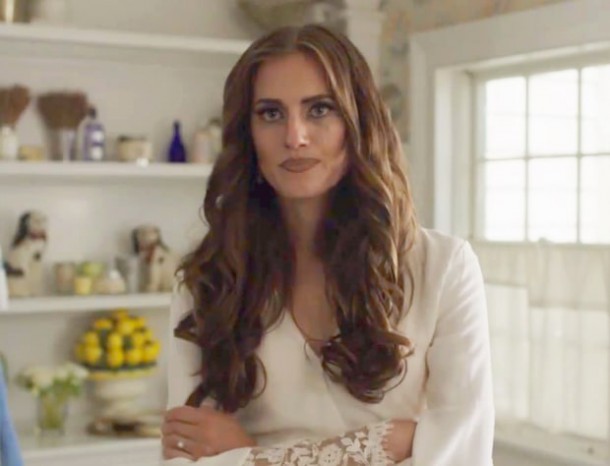 The best is the brown lined lips and orange cheek stripes. Watch the episode to see how it was fixed (or was it?).
My mother did her own makeup on her wedding day. She was lucky enough to have a lovely peaches and cream complexion and she never really wore makeup, but her eighteenth birthday present from her mother was a makeup lesson, and she never forgot the fool-proof tips that worked for her. I, on the other hand, will need a lot of work and going through the motions with my wedding makeup artist before the actual wedding will be an absolute must.
Advertised
In many ways, I want my wedding to go as casually and easily as possible, but my only set-in-stone request is to have a nice dress and face. I do not want to have to keep my wedding pics hidden away.
I know from talking to my makeup artist friends that wedding makeup is, nay, has to be different from normal makeup because it has to last all day and all night and possibly the next morning. They have all sorts and tips and tricks to make this happen, but I would never be sure until I test it out.
Even though good makeup artists will always listen to what the bride wants (unlike Dee Dee), there is also the possibility that their interpretation might not be quite what you envisioned, so a test run is an absolute, definite MUST.
Of course, you need an occasion to go around with a full face of wedding makeup, and many brides-to-be use their hen party as an excuse (and to try out their tan, too).
Advertised
Yesterday, the brides to be of The Blather had an interesting discussion about bridal makeup, if you want to join it, just head on over!
And to help this gal out, tell us your bridal makeup stories, tips, and advice in the comments below!