 Dear Breda,
Thanks very much for your Christmas card. It's lovely to get one with a few lines and not just a Happy Christmas and a from whoever. Cards are few and far between these days. Sure last year Sandra sent me an 'E-card' and Adam only sent me a text message!
Here's the news anyway. Well, there's not much except that I saw Bridie the other day and she was wearing a new purple coat that was just like Deirdre's but it looked cheaper and didn't have the lovely fur bits. The other thing is I 'logged on' to the internet last night because Sandra wanted to show me a 'website' she thought I would get a kick out of. And I did! It's called www.irishmammies.ie and it's only gas!
They sell fabulous tea-towels on it with things written on them and I can hear you when I read them I really can. They say things like "Those biscuits are for the visitors" and "Did you say a prayer to St. Anthony?" which I know I'm always saying as well but you know what I mean.

They have mugs too that I think the Bingo gang should all buy each other for our Secret Kringle or whatever you call it. Oh they are only brilliant, I'm telling you.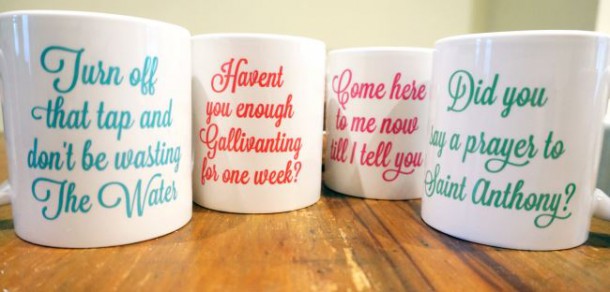 I was going to save it as a surprise but I'm telling you now I got you The Book. It's new out. "The Christmas Book of Irish Mammies" it's called and I got one for Bridie and Deirdre too and I think Sandra is getting one for me. It's a bit of craic as they say but there's a lot of truth in it too.
Adam and Sandra are divils for washing their mugs under the tap instead of in the bucket in the sink and they'd really want to stop wasting The Water. I think I'll give the mug that says that to Adam and the tea-towel to Sandra so they'll be reminded.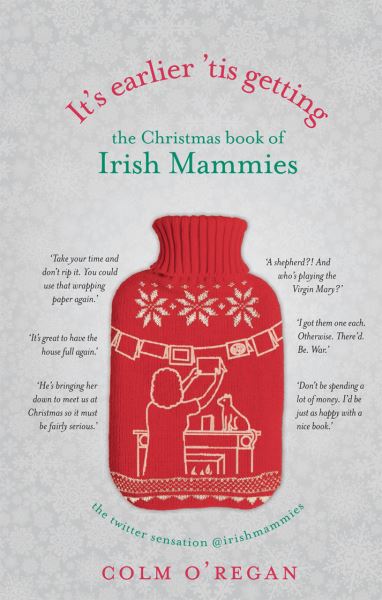 And come here and I'll tell you, Beaut.ie are giving away a whole set of the tea towels and the book, signed and all, to one lucky reader. I think that's brilliant so I do. I'd say there would be a good few Mammies like yourself and myself out there who would be only delighted to get them!
Advertised
I'll say goodbye now since I'll be seeing you on Sunday (at Mass) anyway, so bye bye!
Your friend,
Beaut Mammy
THE PRIZE
To celebrate the launch of the new book and new additions to the Irish Mammies range, you could win a set of Irish Mammy tea towels and a copy of It's Earlier 'tis Getting - The Christmas Book of Irish Mammies, signed by author Colm O'Regan.
HOW TO ENTER
To be in with the chance, we want you to share your favourite catchphrase from your Irish Mammy or Daddy or Grandad or Nana or Auntie - you get the idea. Simply leave your offering in the comments below!
TERMS & CONDITIONS
Competition is open to residents of the island of Ireland (North and South), entrants must be over 18, no cash alternative is possible, our decision is final, entries will be accepted until midnight on Sunday, November 30th. Good luck!
THIS COMPETITION IS NOW CLOSED.
Advertised
CONGRATULATIONS TO OUR WINNER HAMSTERFOX, COMMENT 24/11/14 @15:01.