 Listen: I know that not everyone who has a phone has an iPhone. It's a fact that's never far from my mind, given that Himself is only killed telling me how awesome his shiny new Nokia is every bloody chance he gets. His praises fall on deaf ears because I love my iPhone, although you'd never guess that given how much I drop it.
I'm much to awkward and clumsy to be trusted with one that's not in a protective shield, and whether you need one because you're similarly afflicted or just like to play dress up with your phone, happily there are lots of covers and cases to choose from that are as pretty as they are practical.
Here's my pick of the best!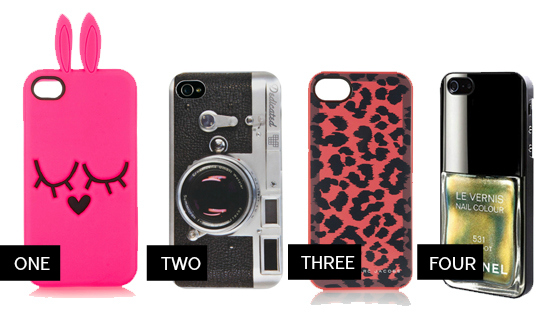 ONE & THREE I think I have yet to meet a Marc by Marc Jacobs anything that I didn't like, and I absolutely love the iPhone covers. New for 2013, the illustrated animals (complete with sticky out ears that would get caught in everything) are super cute, while the red leopard print is chic without being boring or conservative.
€45 // €35, both Net-A-Porter
TWO The perfect case for Instagram-happy hipsters, as well as fans of the mid-century modern revival who can opt to dress up - or, er, down - their newfangled technology as a vintage camera.
€15.58, ASOS
FOUR I couldn't really not mention the Chanel Le Vernis cases that have sprung up all over Etsy. Now your phone can wear your favourite shade of posh polish too, and it'll last longer there than it ever would on your nails.
€7.88, Etsy
Advertised
FIVE Are foxes still in? Do you even care? As someone who adored Fantastic Mr. Fox and devoured the books of Colin Dann and Tom McCaughren as a kid, I certainly don't, and this foxy (groan) little number makes me feel very happy indeed.
$35, Society6
SIX // SEVEN // EIGHT I gots four words for you: CATS ON iPHONE CASES! Nuff said, really.
£24.99, Iconomesis // $35, Society6 // $35, Society6
NINE Monochrome is one of the biggest trends for 2013; here it's cut with super summery bright yellow for an instant injection of sunshine.
€15, AnotherCase on Etsy
TEN These wooden and nude triangles feed my love for the geometric and juxtapose earthy textures with a little girliness.
€15.84, Cases By Csera on Etsy
Advertised
ELEVEN Part heritage cool, part pop of colour, this herringbone case is tweed-tastic.
$35, Society6
TWELVE Chevron can sometimes look a bit twee - especially when paired with a monogram, yeesh - but this rendering is definitely cool.
$35.99, Marco Cibola on UnCommon
Get Beaut.ie Delivered
Stay updated with Beaut.ie newsletters full of the latest happenings at Beaut.ie as well as great offers and things we think you might find interesting .