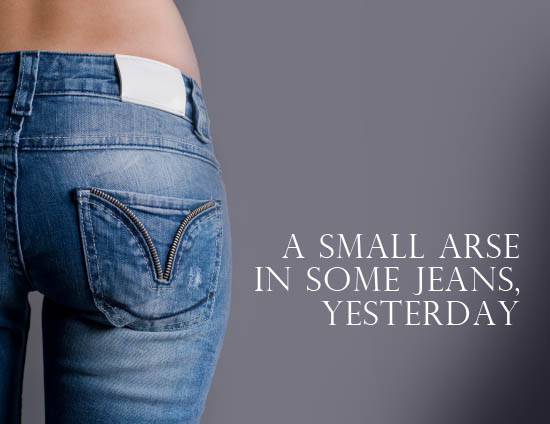 Ladies! Are you 5' 3" or under? Do you suspect that you're sometimes asked for ID based solely on your stature? Is reaching the top press or shelf in the kitchen a struggle? In fitting rooms, do you find that the boob-shaped bit of the dresses you try on usually ends up sitting around your waist?
If you answered yes to these questions, then please allow me to sympathise as a fellow shortarse and to welcome you to the petite club. Where most people seem to cite dresses as their go-to item of clothing, for me it's jeans: I currently have eight pairs in regular rotation (as well as a "not wearing right now" stash tucked away because their shape or colour – or both – are out of fashion favour at the minute.)
They're the staple of my petite wardrobe because I find them flattering and easy peasy to dress up or dress down as the occasion demands. There are a couple of things you can bear in mind to help find your perfect petite pair (or eight!)
MAKE FRIENDS WITH A GOOD TAILOR/ALTERATIONS SERVICE 
Many petite women will be familiar with the scenario of finding a practically perfect pair jeans that are about a foot too long in the legs. I find it to be a particular problem with premium denim, which may only be available in a 34" inseam. (I also have the same trouble in Zara, but since I can never get the trousers there to come up past my knees it's kind of a moot point.)
If length is the only issue, they fit everywhere else, and you can spend another tenner on alterations, fecking snap them up. Jeans that fit and flatter your figure are hard to come by, and a good alterations service will be able to take them up while retaining the finish of the hems and the overall shape of the legs.
TRY PETITE RANGES
Petite ranges have come on in leaps and bounds in the last few years as brands stopped misreading "5' 3" and under" as "53 and older". Many now offer even their most trend-led items in a petite fit, as well as jeans with shorter inseams than their standard lines.
For a quicker, ready-to-wear jeans fix, a petite fit is absolutely the way to go and will be tailored to suit a shorter figure.
Advertised
Check out Topshop for fashion-forward styles with a standard petite inseam length of 28"
Marks & Spencer have limited range of petite jeans but the 5-pocket jegging, as beloved by Rosemary, is there. There are two petite inseam lengths available at M&S: standard (29") and short (26")
Dorothy Perkins have a good line of petite jeans available, all with 28" inseams
Next have an extensive petite denim range, measuring 27.5" on the inside leg. Like M&S, Next's regular lengths are also shortarse friendly at 29"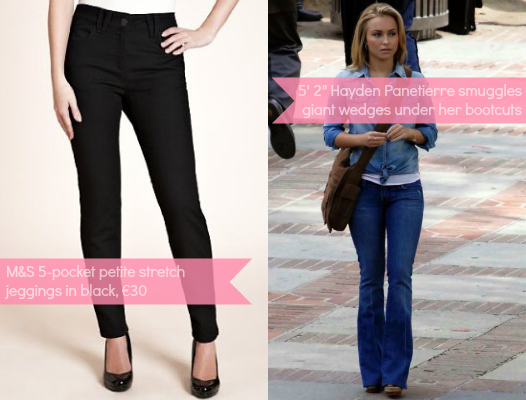 CONSIDER FIT, STYLE, AND COLOUR
There's a lot of "advice" out there about how shorter individuals should stick with high-rise waists to create the illusion of height, the idea being that more material = a longer looking bottom half. That does make sense but since I know for an absolute fact that high-waisted jeans don't suit me, I'd suggest thinking about what flatters your body shape too (see our jeans guides for apples, hourglasses, pears, and rectangles.)
Theoretically, turned-up and cropped styles shouldn't flatter short legs but actually I think skinnies in these styles can really cute as long as the hem doesn't hit the leg too far above the ankle. I would recommend being cautious of very wide legged jeans unless they're paired with mega heels since they have the potential to really swamp a small frame.
It's not a hard and fast rule by any means, but generally darker colours work better than pastels and light washes at elongating shorter frames. Of course, that doesn't mean you have to stick with boring black or indigo: there are some gorgeous olive and berry shades around right now that would be fab on petites.
BONUS TIP: ACCESSORISE WISELY
Pairing jeans with shoes (and indeed tops) in a similar colour will help to provide an illusion of continuity and can make you look taller. If you need to wear a belt with your jeans, choosing one that coordinates with them over one that contrasts means you can avoid visually cutting you up.
I can wear patterned and bright belts with dresses and skirts no bother but weirdly they do make my legs look shorter when I try them with jeans. Wah!
Advertised
Are you a petite personage? Have you any tips for picking the perfect pair of jeans?
Get Beaut.ie Delivered
Stay updated with Beaut.ie newsletters full of the latest happenings at Beaut.ie as well as great offers and things we think you might find interesting .