 In 2016, we no longer have no other choice than to fork out on expensive exercise courses or drop-in classes when in reality, on a crappy midweek evening, we'd rather exercise at home if we really have to, and we'd also rather not spend for the privilege.
While it's always good to get into a studio to correct your form and learn from others once in a while, the online yoga circuit has come on so much in the past few years, that their classes are well worth trying. The standard across the board is incredibly high and with so many of us needing that flexibility, it's become quite the business opportunity for digital savvy yogis. At the mere click of a button, what's to lose?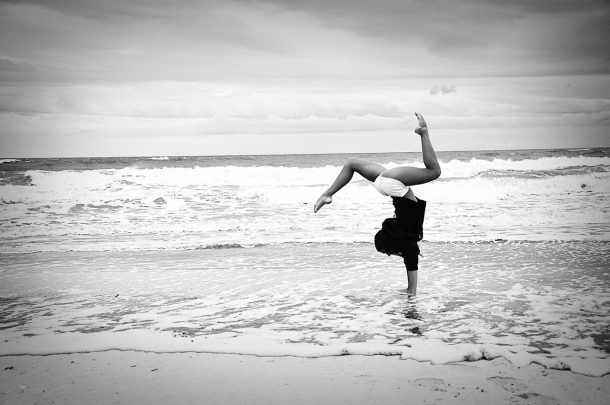 The more you get into your yoga practice, the more you will learn to separate the wheat from the chaff, but for now, let us do the hard work for you by bringing your attention to three brilliant YouTube yogis. Thankfully, you don't have to pay to sign up, but if you did and we could guarantee your money back, we would.
First up it's Erin Motz of Bad Yogi and Do You Yoga fame. Erin is a young woman originally based in Florida who's now running online classes from France. What we love about her is that she's so incredibly down to Earth and regularly reminds us that she had to start somewhere too. She also likes wine. She doesn't conform to what you might expect from a typical yogi and she's very easy to follow too. Her 30 day YouTube challenge is what made us fall in love with yoga in the first place, and she does plenty of mini videos where you can focus on correcting your form for just one pose at a time. We wish we were friends with her; we're not. Sad face.
Advertised
Another star with a 30-day challenge worth your time is Adriene Mishler, or 'Yoga with Adriene' as she's known online. She leads an incredibly satisfied online community of aspiring yogis and much like Erin, she's not about to scold you for bending your knees mid-downward dog.
Adriene encourages you to move as you feel and really listen to your body instead of relying on her step by step guide. Should you be in a lazier mood and want to watch her go through the motions, you'll always have a giggle with her too. She's totally herself and encourages you to be you too.
For even more flexibility - oh look; a yoga pun - try Yoga Glo. Filmed in Santa Monica California, these classes range from 10 minutes to 90, depending on how hectic your week is shaping up. Sometimes even just ten minutes of flow will do.
With the above instructors and online outlets, you can check in and out any time you please, meaning you call the shots. However, you'll have to rely on your willpower, and your love of the lotus position to get your ass in gear on a daily basis. For those who feel they need an extra motivation, there are a wealth of online yoga options for which the classes operate in real time. The future is upon us, people. Yogaia were the first to enter this realm, and their popularity is growing strong among yogis who benefit from the interactive nature of the classes. If anything, knowing you're right there with the instructor - in spirit at least - will ensure you work that bit harder. Om-azing.
Advertised
So try one of the above and come back to us; we'd love to hear how you get on.