 Yesterday, the names (three, no less) of the latest addition to the Royal Family was released. Admittedly, it is a beautiful name and one I campaigned for at length for quite some time... The wee sleeping bairn happily snoozing her head off in Kate Middleton's arms over the weekend is now called Charlotte Elizabeth Diana.
The Duke and Duchess of Cambridge have named their baby daughter Charlotte Elizabeth Diana http://t.co/f2tFui9VZWpic.twitter.com/KbpiWMNxhe

— Sky News (@SkyNews) May 4, 2015
As you can see from the below wizardry that Charlotte has been a consistently popular name in England/Wales (the Bronte's and a certain web have no doubt been instrumental). Not too sure what happened in Belgium/Germany, but it appears to have experienced a spike in the early noughties, upon which is proceeded to plummet.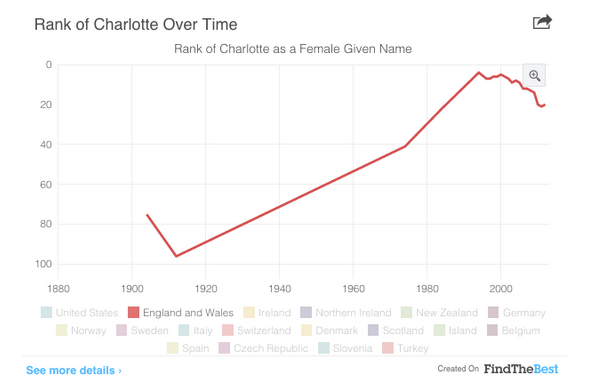 Advertised
If you're looking for additional coverage from the Royal birth, here's Jimmy Fallon's annoying British reporter.