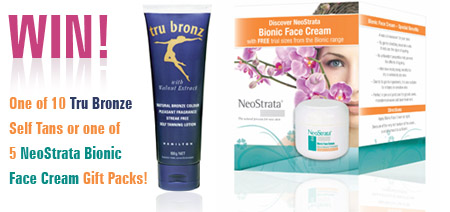 Competition is now closed! 
Yup, it's competition time again at beaut.ie and this time the Gods of Sunshine and Smooth Skin are smiling down on us. We have 10 tubes of Hamilton Tru Bronz self tan to give away, as well as 5 pots of NeoStrata's fantastic Bionic Face Cream Gift Box. Don't say we don't spoil you!
More info after the cut!
To win yourself one of these fab prizes, just send us your name and postal address to [email protected]. It's that simple! Entries close on Monday 16th April and the rules are as follows: one entry per person, you must have an Irish address, no cash alternative is available.
And what about these fab prizes?
Tru Bronze is a quick drying, non greasy self tan enriched with walnut extract to create a natural looking 'Aussie' tan. It will leave your skin soft, pleasantly fragranced and glowing just like a real Bondi beach babe! Tru Bronze retails at €11.98.
Advertised
We've talked loads about NeoStrata on the blog over the months and we're firm fans. Their Bionic Face Cream is fab, and absolutely brilliant for very dry skins. I use mine religiously! In the gift box you'll not only get a Bionic Cream worth €40, but you'll also get samples of these other fab NeoStrata products:
10ml Daytime Protection Cream SPF 15 – A perfect 2 in 1 make-up base with SPF protection,
15ml Facial Cleanser – very gentle anti-age cleanser with PHA
10ml Bionic Serum - is a powerful night time skin boosting serum with exceptional age defying benefits, antioxidant effects and intense hydration.
10ml Bionic lotion - Hydrating and exfoliation face & body lotion
If you're too eager to wait and see if you'll win yourself a Tru Bronz self tanner, then you can rush to your local chemist right now and stock up:
| Name | Address 1 | Adress 2 | Phone No |
| --- | --- | --- | --- |
| Skehard Pharmacy | Skehard Road | Blackrock | 021 4357230 |
| D & M Harrington Chemist | 1 Ashe Street | Clonakilty | 023 33318 |
| Fitzgibbon Pharmacy | Lower Cork Street | Mitchelstown | 025 24253 |
| O Sullivan Pharmacy | Unit 5, Wilton S/Centre | Wilton | 021 4341800 |
| Rockville Pharmacy | 7 Rockville Road, Newtown Park Avenue | Blackrock | 01 2883063 |
| Airport Pharmacy | Car Park Lobby | Dublin Airport | 01 8144649 |
| Monkstown Pharmacy | 26 Oliver Plunkett Road | Dun Laoghaire | 01 2805693 |
| Healthy Herbal Options. | 27 Strand Road | Skerries | 01 8491251 |
| Mr Roy Mccabe Mpsi | Unit G24, The Pavillion Shopping Centre | Swords | 01 84406555 |
| Denis Walsh Mpsi -Pharmacy Care Services | The Pharmacy, Spiddal | Galway | 091 553201 |
| Salthill Pharmacy | 145 Upper Salthill | Galway | 091 523207 |
| Matt O'Flahertys Chemist | 37 Eyre Square | Galway | 091 563526 |
| Burkes Pharmacy Naas | 3 North Main Street | Naas | 045 897259 |
| Medicare Pharmacy | Superquinn Shopping Centre | Castletroy | 061 339454 |
| Mc Cabes Pharmacy | 5 Crescent S/Centre | Dooradoyle | 061 304351 |
| Mediman | 34-36 Ballymahon Street | Longford | 043 41100 |
| Mahers Chemist | 105 West Street | Drogheda | 041 9836205 |
| Montekin | Unit 4 Drogheda Town Centrewest Street | Drogheda | 041 9835952 |
| Christopher Higgins Mpsi | Teeling Street | Sligo | 071 9142396 |
| Mr J A Burke Mpsi | Wine Street | Sligo | 071 9142313 |
| Magee's Pharmacy |   | Enniskerry | 01 2863515 |
| Churchtown Pharmacy | 121 Breamor Road | Churchtown | 01 2968590 |
| J V Rafferty Mpsi | Stillorgan Shopping Ctr | Stillorgan | 01 2880153 |
| Mc Cabes Pharmacy | Level 3, Units 17-19, Dundrum Town Centre | Dundrum | 01 2986709 |
| St Gabriels Pharmacy | 28 St Gabriels Road | Clontarf | 01 8339422 |
| Pmk Pharmacy | 105 Trees Road | Mount Merrion | 01 2889364 |
| Tony Walsh Chemist | Unit 4 Merrion Shopping Centre, Merrion Road |   | 01 2838200 |
| Dunville Pharmacy | 32-34 Dunville Avenue | Ranelagh | 01 4971289 |
| Roches Pharmacy | 165 Upr Rathmines Road | Rathmines | 01 4972693 |
| Johnstons Pharmacy | 21-23 Ranelagh |   | 01 4972190 |