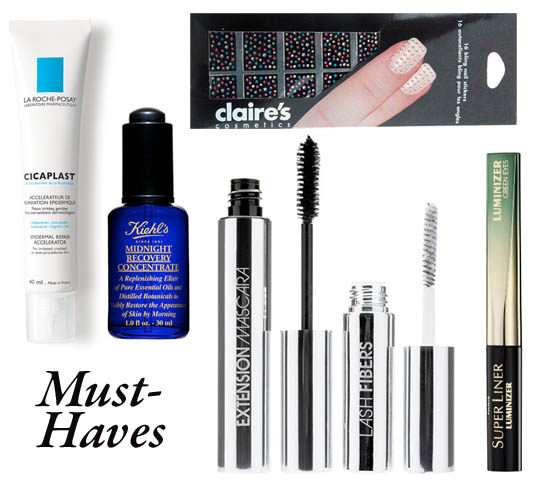 1. La Roche Posay Cicaplast (around €13)
Keeping combination/oily skin on an even keel is a challenge at the best of times, and winter is definitely not the best of times. Extremes of temperature, harsh winds, and drying central heating can strip moisture from both oily and drier skintypes, but of course the difficulty with oily skins is that rich unctions can overwhelm and create as many clogged pore-shaped problems as they solve. That is why I have big love for this little tube of product. It performs like a plaster, wrapping skin in just the right amount of nourishment to soothe irritation, flakes and dryness without leading to spots. This is a firm fixture in my bag of tricks at this time of year.
2. Kiehl's Midnight Recovery Concentrate (€42)
This is one of an elite group of specialist treatments that I can deploy at night for an intensive shot of moisturising R&R without fear of retaliatory breakouts come morning. The fact that results are near instantaneous only serves to sweeten an already deliciously sugary deal.
3. Model Co Fibre Lash (€39)
While I wait for my tube of Talika Lipocils to arrive, I'm making the most of every single lash that those pesky 2-week extensions left behind. Sure, this stuff is expensive - some might say too expensive for daily use - but dammit all to hell, ain't I worth full-on extreme fluttery fabulousness on an everyday basis?
Of course I am. Especially over The Christmas: sure you never know when you might accidentally run into an old frenemy in your home town and want to induce a little bit of lash envy...
Advertised
4. L'Oreal Paris Superliner Luminizer (€9.85)
My eyes seem to change colour depending on my humour/the type of shoes I'm wearing/how hungry I am, and I have these lovely liquid liners in both Emerald (for illuminating green eyes) and Amethyst (for illuminating hazel eyes) to cover all eventualities since, sadly, L'Oreal have yet to offer a shade to enhance muck-coloured eyes.
Le sigh.
I think these are quite amazing for the fairly low price. The soft nib ensures smooth, defined, drag-free application and makes easy work of subtle tightlining as well as chunky lines or flicks and once on, these liners aren't going anywhere. They don't flake, smudge, or budge, even when you whack a pair of lash curlers up beside them without really giving them adequate time to dry.
And yes, my muck-coloured eyes do seem to lean more green/hazel depending on which of the two I'm wearing. Totes amaze.
5. Claire's Accessories nail stickers (€7.95)
I didn't expect much of these when I picked up a set patterned with a white-on-black skull design and one printed with peacock feathers, and to be honest I'm still trying to make up my mind about Claire's Accessories nail stickers. Although they're quite plastic-y in texture, they aren't nearly as thick as I thought they'd be and they're well sized for my nails: I was able to select ten from the eighteen in the pack that fit my fingertips perfectly and required no additional trimming.
Advertised
A blast of the hairdryer kept them flexible during the application process and eliminated wrinkles, but they didn't last especially well: I only got two days out of them before the tips started curling away from my nail plate.
What products are you using and loving right now?