 Whether you've booked your summer 2022 holiday or are planning a staycation, it's easy to feign the look of sun-kissed skin thanks to a range of self-tanners.
We have teamed up with Bare by Vogue to give you the best summer tanning tips and to offer a discount code to all our readers. Hit up the Bare by Vogue website, and use the code BEAUT10 at checkout.
In the last few years, science has told us that there is no such thing as safe tanning.
Exposing your skin to UVA & UVB rays can lead to dangerous consequences.
The "glow" of a tan, while commonly associated with good health, is actually the polar opposite of healthy; it's proof of DNA damage to your skin.
Tanning harms your skin cells and accelerates the aging process.
Worst of all, tanning has been linked to the development of skin cancer.
Armed with this new information, women all over the world have been turning to alternative options to achieve the perfect tan.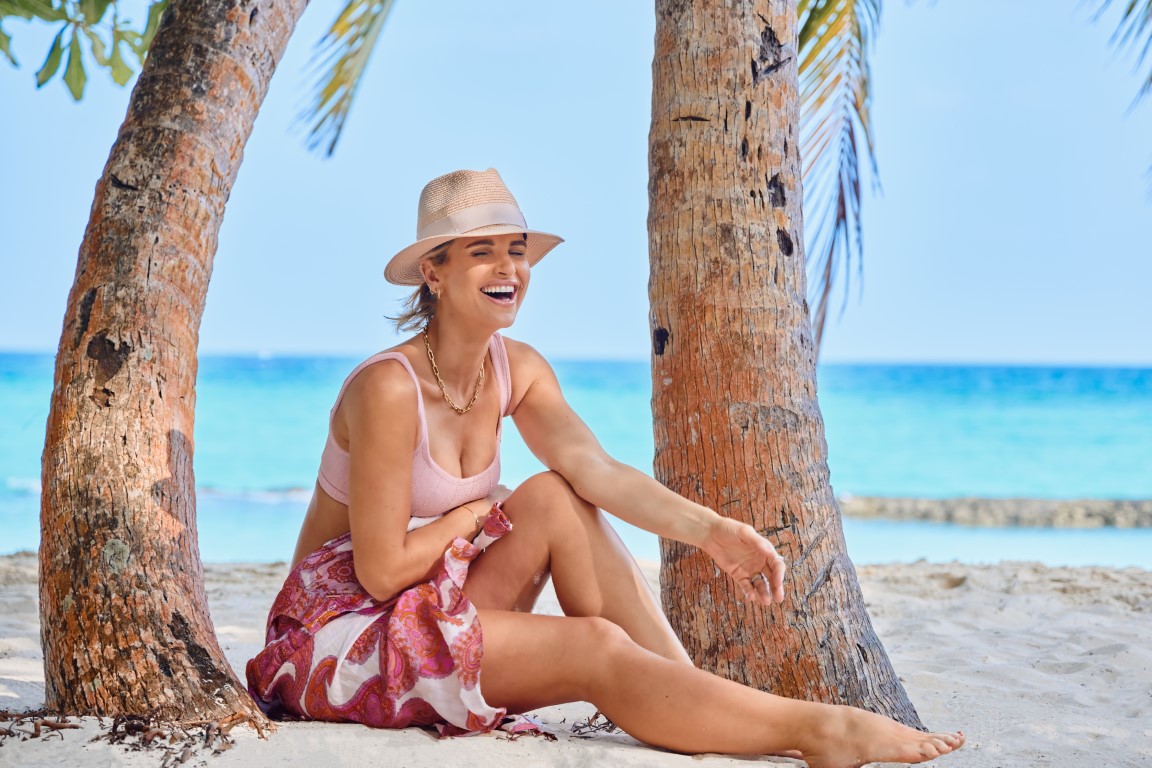 We have put together a few easy steps to follow, to ensure that perfect summer glow is achieved. Take note ladies….
Prep and prime the skin to create the perfect base for your summer glow.
Apply a tan eraser, such as the Bare by Vogue Self-tan Eraser (€18) to the skin and leave it to absorb for 5-10 minutes.
A self-tan eraser helps to promote natural skin health and preps and primes the skin for the next step of your tanning application.
Next, hop in the shower and grab an exfoliating mitt and gently massage over the skin in circular motions to remove old or excess tan and soften the skin without scrubbing.
There are many shades and formulas of self-tan to suit all your needs, but we just love the Bare By Vogue tan.
If you want a last-minute quick fix or buildable bronze, we've got you covered.
Bare by Vogue's Self-Tanning Lotions (€24), Foams (€24) and Instant Tans (€18), all come in three shades - Medium, Dark and Ultra Dark. Both Bare by Vogue Foams and Lotions develop in 4-8 hours meaning you can build a fabulously bronzed look easily.
They also have instant tans (€18) which provide a rich, natural-looking colour that washes off when you choose and gives your desired finish in minutes.
The advanced formula is enriched with beneficial Super Peptides which help to smooth, plump, firm, and improve skin elasticity.
Always use a tanning mitt when applying self-tan, for a smooth and streak-free application.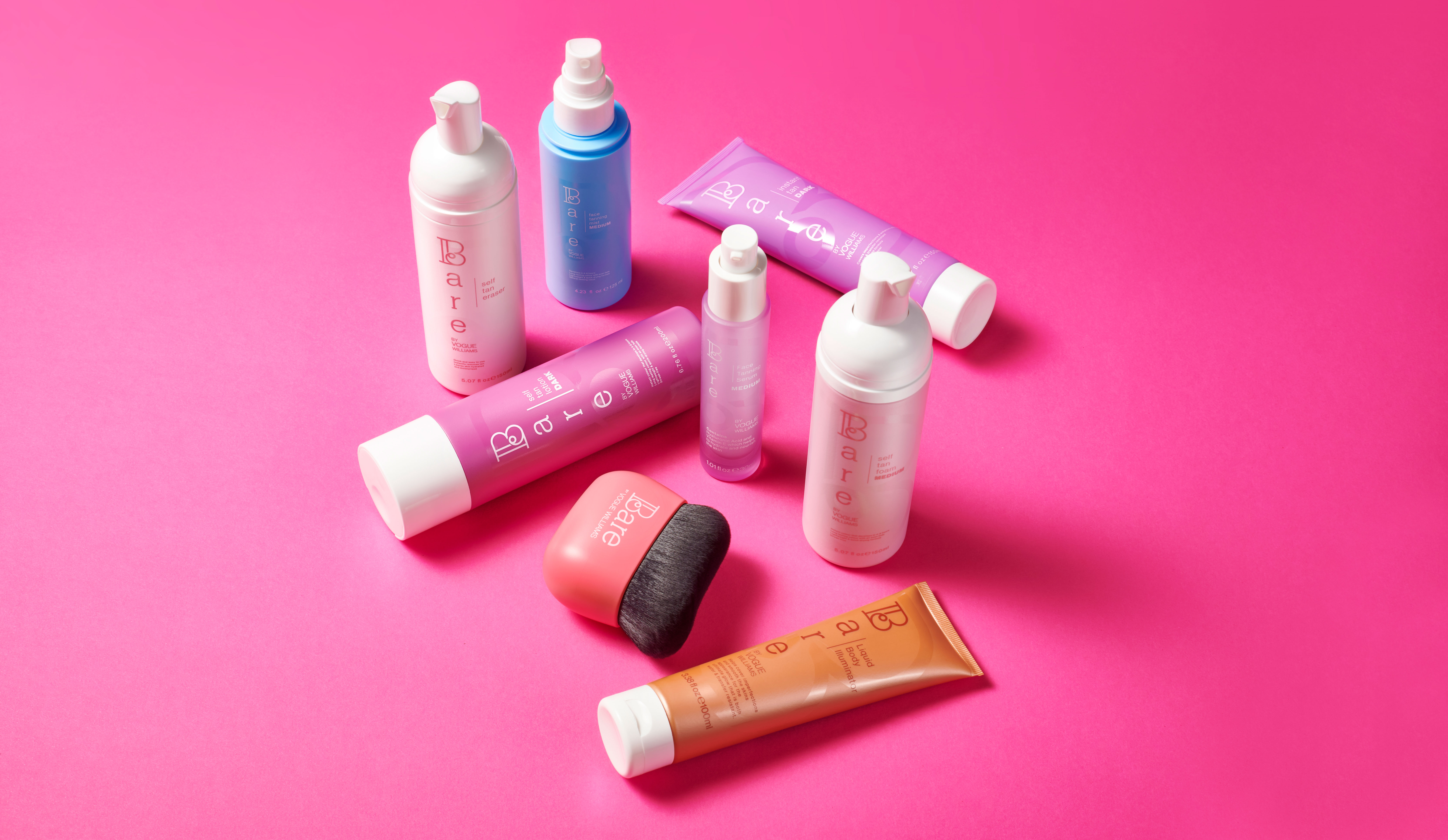 For the ultimate summer glow, finish off with a Liquid Body Illuminator.
Bare By Vogue's Liquid Body Illuminator (€25), is a hydrating liquid illuminator for the ultimate sun-kissed glow.
Enriched with amino acids (Goji Berry and Pomegranate) that helps to nourish and improve the texture of the skin and Vitamin A & C (Grapefruit) for radiant, glowing skin.
Liquid Body Illuminator perfects the skin by minimizing blemishes, covering imperfections, and smoothing the skin's appearance while reflecting light for the ultimate glowy skin.
Use a soft Body Brush to apply the liquid illuminator seamlessly down the centre of your limbs, across the collarbones and anywhere else you'd like your skin to catch the light for a luminous glow.
Tanning Mists finish off the perfect summer glow.
You can pick up a Face Tanning Mist in any pharmacy or Penney's!
Spray the tanning mist on to your face and blend with a fluffy makeup brush.
The Bare By Vogue Face Tanning Mists (€18) have been specifically created with the face in mind and the new serums offer the perfect hybrid of a truly efficacious skincare serum, paired with sunless tan, to deliver the ultimate glow.
All Bare by Vogue products are formulated with naturally-derived ingredients such as Goji Berry, Oatmeal, Chamomile, Pomegranate, and Grapefruit, all contributing to the promotion of skin health and enhancing skin elasticity.
The range is vegan-friendly, cruelty-free and safe to use during pregnancy.
The full Bare by Vogue range is available to purchase on barebyvogue.com and in pharmacies and retailers nationwide.
Use the code BEAUT10 at checkout on the Bare by Vogue website, to receieve your discount.