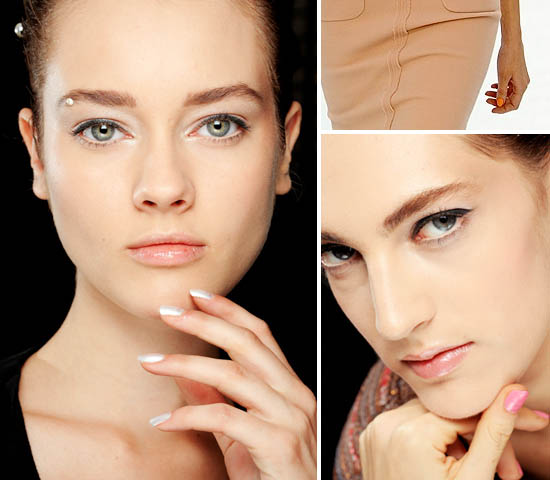 Last night, I was on a mission of great importance, and it was one that involved skill, determination and having lots of tabs in Firefox open.
I refreshed WWD.com 34 jillion times; I hit up Style.com, landed at a vast selection of fashion sites more times than I cared to remember and it was all so I could get a goo at what nail shades Uncle Karl had sent down yesterday's shell-strewn runway during the Chanel show at Paris Fashion week. Finally, the sites updated and my curiosity could be satisfied.
I'm not sure I'm wildly enthused yet about a pearlescent white (bit mammy), a coraly orange I haven't yet had a decent look at and (possibly pearlescent) pink, as above, but the rest of the makeup's got some interesting touches - pearls glued to the vertebrae down the model's bare backs and along the helix of their ears, below the bottom lip as well as through the hair, plus glimmering eyes courtesy of the fantastic Illusion d'Ombre shadows.
Advertised
I reckon some more higher-res shots will land with me soon so I'll share them if and when; in the meantime lets discuss: are you enthused about the pink, white and orange nail trio which will no doubt form part of Chanel's Spring 2012 makeup offering? Considering what hot property this brand's polishes are, this one's gonna be interesting!