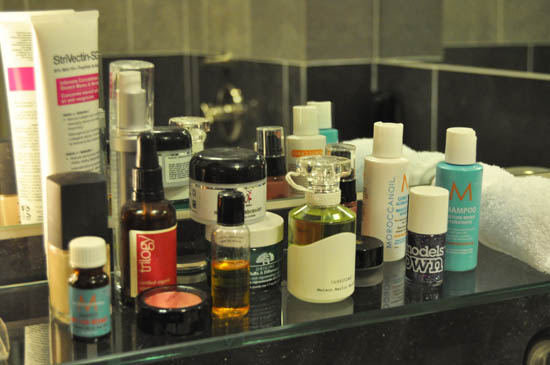 One good thing about super-strict baggage restrictions has been the fact that I now *have* to reign myself in with regards to what I can take on holliers with me. Before, I'd have been a six pairs of shoes and every perfume I owned kinda gal; now? Not so much.
I'm in New York at the mo gallivanting, shopping and seeing bands (we're mostly here out of a long-seated desire by my other half to see the recently re-formed Guided By Voices. Who much to his sickenment, I *of course* saw first time round the block, ha!) and above is pretty much everything I took in the cosmetics department, barring most of my makeup, of which I limited myself to - shock horreur - ONE SMALL BAG.
I'm pretty proud of self, I must say. I've packed mini sizes of Moroccanoil, plus the matching shampoo and conditioner, one nail polish (but am hoping to get them done over here, hopefully at Rescue Beauty Lounge), one perfume - the forthcoming Maison Martin Margiela scent which is green and gorgeous, right up my street - some recently-purchased and as yet-unused Inglot goodies I need to give a whirl, plus skincare, which actually forms the bulk of what I packed.
Advertised
Airplane pressurisation shags up my skin; winter cold shags up my skin; nights on the booze and hotel air conditioning shag up my skin - intensive goodies are needed. I've brought a fabulous peptide-packed serum I've been using from Caci, Origins Make a Difference moisturiser, which is a real winter skin saver, as well as that new StriVectin cream I'm gonna try. I supplemented those with a microdermabrasion-effect scrub to help combat flakes, a sample size of Make Up For Ever's oil cleanser for makeup removal and my trusty Trilogy Rosehip oil which I use at night.
And that girls, is pretty much it. Sounds like a lot - but I think I've packed pretty lightly, thus ensuring, of course, I have room to take some newbies home. Ah, see, I had an agenda! What can't you live without on holidays?
Get Beaut.ie Delivered
Stay updated with Beaut.ie newsletters full of the latest happenings at Beaut.ie as well as great offers and things we think you might find interesting .