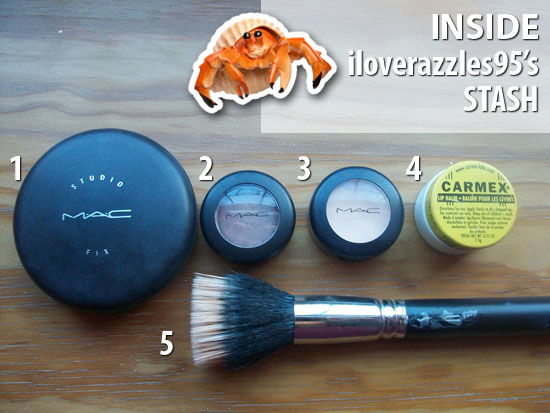 The poll's still open and the Crab is as yet un-named. Will this prevent him from doing his weekly nosy duty? WILL IT HECK.
Today, he's having a sneaky inside Iloverazzles95's beauty bag, who has left the following products out for his sea-bound scrutiny:
MAC Studio Fix Powder Foundation
"I love using this when I can't be bothered with the hassle of liquid foundation, she says. "It's so easy to apply and still gives full coverage."
MAC Eye Shadow in Satin Taupe
What's good about this, then? "It's such a pretty eye shadow that you can wear alone all over the lid or pair it with a darker shade in the crease," she reveals, adding that Sable is her deeper colour pick. Anything else? "Definitely my favourite neutral eye shadow for every day."
MAC Studio Finish Concealer
"This is the only concealer I have used so far that actually fully covers my spots without leaving any redness behind," Iloverazzles95 asserts, saying it's her Holy Grail concealing product.
Carmex
"If I go a day without this my lips are literally red raw, I will love this until I die!," she exclaims, not unreasonably.
MAC 187 brush
"Please excuse the dirtiness," she begins, explaining, "I used it this morning. This brush has changed my foundation routine so much for the better. Gives me the airbrushed look in a few minutes!"
Advertised
Some Beaut.ie faves there too - especially the Mac 187, oh we do love a birra that. And in case you think it'd be really hard to pick just five can't-live-withouts, Iloverazzles95 found it pretty tricky too. "It was truly hard for me not to throw in everything else I use on a day-to-day basis but when I sat down and thought about it, these were the ones I actually would die without!"
What do you reckon? Anything you love or loathe there? Want to pass judgement on her quintet, or want to submit your five for scrutiny? If so, all the info you need is on the original, the crab's-back-from-the-dead post.