 Big Hero 6 is a cute kids movie that kids can't wait for and, let's face it, we're bound to like too. Did anyone say Frozen?
It's always nice to know some background information so before the movie hits cinemas on 30th January, we thought we'd give you a quick rundown on who's who in Big Hero 6 and we're giving you the chance to win a fantastic Big Hero 6 goodie bags - see the treats inside below!
Meet The Characters
At 14, it's pretty tough to know what you're capable of. Not for Hiro Hamada, though. A robotics prodigy who's already graduated from high school, he makes a little cash on the side with illegal robot fighting. That is, of course, until his brother challenges him to be something more. If he can can compete and win San Fransoyko Institute of Technology's entrance competition, he'll become the youngest entrant to their robotics program and work alongside his brother, Tadashi.
Hiro's older brother, Tadashi, is just as gifted and intelligent at robotics like Hiro. While Hiro has no direction or path in life, Tadashi has one - to create a robot that can save lives. Working with his teacher, Professor Callaghan, Tadashi creates Baymax, a nursing robot that's able to diagnose pain and administer care. However, when Hiro gets a hold of him, he becomes much, much more.
Created by Tadashi Hamada, his primary function is caring for and helping people. However, when Hiro runs into deep, personal trouble, Baymax resolves to help him. How? By becoming an armoured fighting robot with a jet-pack and flying fists. That's what every 14-year old needs.
One of Tadashi's college friends, Wasabi is a strict, organised and heavily neurotic character. At the university, he's working on a laser-field that'll slice almost anything in two - but when he gets his super-suit (designed by Hiro, no less), he incorporates these lasers into them.
Tough, uncompromising and resourceful - that's Go-Go Tomago. A no-nonsense woman, she won't stop for anyone - and why should she? With her razor-wheels, she can cut down and cut through just about anything - or anyone!
Advertised
Fred's all about one thing - getting everybody fired up. As well as being San Fransokyo's head mascot, he's also the team's cheerleader. Full of boundless energy, Fred's optimism and confidence can't be stopped - neither can his fire-breathing super-suit either!
A chemistry genius, Honey Lemon may be a little ditzy on the surface, but there's so much more going on underneath. Using her chemical-gas dispensing handbag, she's able to cook up a storm real quick.
A technological guru, Alistair Krei is the owner of Krei Tech Industries and eager to make robotics accessible to all. He's clashed with Tadashi and his mentor, Professor Callaghan, in the past and offers Hiro the opportunity to work for him on whatever project he sees fit.
Tadashi's mentor and robotics professor at San Fransokyo's Institute Of Technology, Professor Callaghan is the voice of reason and logic, shepherding the team's projects and offering guidance whenever they need.
We have brilliant goodie bags to give away to Beaut.ie Kids. So what's inside? Well, tonnes of great stuff including Pop Baymax, book, notepad, t-shirt, keychain, folding cubes, stickers, backpack, frisbee & lots more!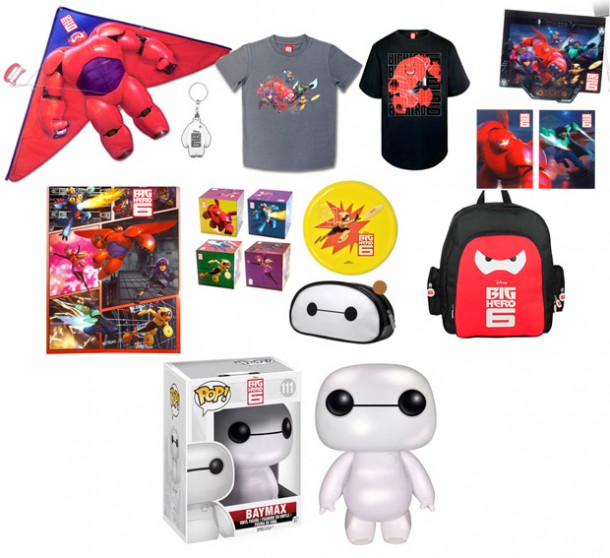 HOW TO ENTER
To be in with the chance with winning this brilliant prize, all you have to do is take a snap of your own kids dressed up in their favourite super hero costume and tweet us @Beautie along with the hashtag #BigHeroBeaut.
TERMS & CONDITIONS
Advertised
The photos must be of your own children and by entering you are giving us permission to publish your photo on site as we see fit. Competition closes Tuesday 10th February.
Competition is open to residents of the island of Ireland (North and South), entrants must be over 18, no cash alternative is possible, our decision is final, entries will be accepted until midnight on Tuesday, 10th February 2015. Best of luck!