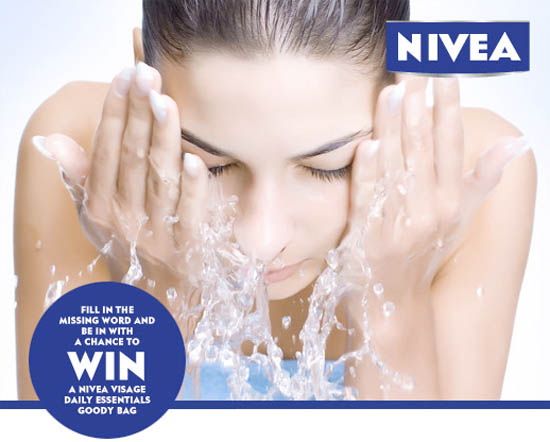 Nivea have asked us to tell you lot about Cleansing Week and sure we were only delira once we heard that ten goodie bags full of Nivea Visage Cleansing products were up for grabs.
Nivea Visage interests us for a couple of reasons.  Firstly it's Beaut.ienomical and that's very important.  Let them eat baked beans but for God's sake don't give up your cleansing routine!  Switch from pricey products if you're feeling the pinch and choose good supermarket brands like this one.
Secondly, improved formulations and ingredients mean that this range has upped its game.  Products for all skin types, including sensitive skin (almond oil and calendula are the skin soothers in Daily Essentials Gentle Cleansing Cream Wash for Dry and Sensitive Skin) are available.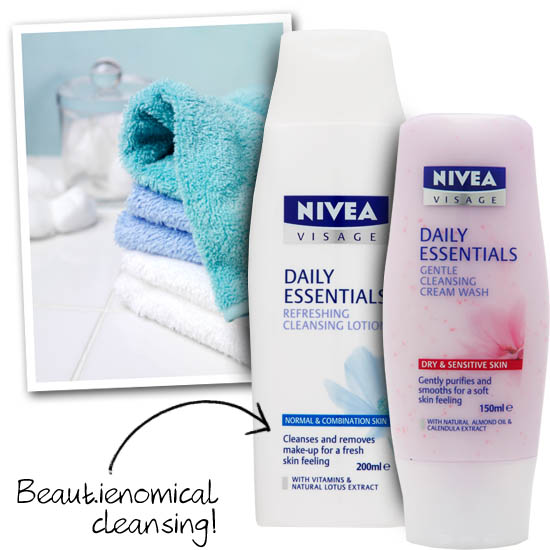 Beaut.ie's top five cleansing tips:
Advertised
Power Aid
Easily super-charge your routine by turning it into a Hot Cloth Cleanse.  Use a muslin cloth with your cleanser - and you can do this with any cleanser at all.  Rub your chosen cleaning product into skin and then simply heat the cloth up by running it under the hot tap.  Gently wring it out, then use the cloth to remove the cleanser.  Your skin will feel softer and the bonus is it will be gently exfoliated. Pick up packs of muslin cloths in big chemists and make sure to keep them clean by throwing them in the machine every now and then
Scrub Up
Exfoliate regularly with a gentle face scrub.  Choose one with that doesn't 'scrape' your skin and irritate it - something with 'microbeads' is ideal.  Want to save even more money?  Very finely granulated sugar mixed with olive oil makes a great DIY scrub
Cream of the Crop
The bestseller in the Daily Essentials range is the Gentle Cream Wash and we're not surprised because cream cleansers are ideal for most skin types.  They're kind and gentle to skin and particularly good for dry or combo skin.  If you're finding your cleanser too harsh or drying switch to a cream cleanser - it might be the best thing you can do for your skin.
Keep it Calm
Don't overcleanse as it can throw skin out of balance and lead to dryness or - horror - spots.  Even if your skin is oily you may not need to do a full cleanse in the morning - sometimes a splash of water or light toner is all you need to freshen up.
Wipe Out
We know cleansing wipes are a fact of life and we're realists so here's our tip.  Only use them occasionally - when you're just too knackered to use your regular cleanser or after a night on the tiles.  Get back in the saddle the next day with your regular cleansing routine and you'll be ok!
Got a good tip of your own?  Share it with us!
The prizes
10 goody bags packed with Nivea Visage Daily Essentials products are up for grabs.
How to enter
Head over to the Nivea Ireland Facebook page and fill in the Competition Entry form making sure to fill in the vital missing word. HINT: you need no hints!
Terms & Conditions
Make sure to read the T&Cs on the Nivea Facebook page for full information.
Advertised
Good luck!
Disclosure: this is a sponsored post for Nivea
Get Beaut.ie Delivered
Stay updated with Beaut.ie newsletters full of the latest happenings at Beaut.ie as well as great offers and things we think you might find interesting .