 AND IT'S ON SALE!
For those of you who still love the Self Portrait Azalea-esque, laser-cut style, have Warehouse got a deal for you. I proclaimed the style over once the high street started producing copy after copy, but there's something about this type of dress that's another level pretty.
Because of the way it's designed, with at least two layers of fabric and intricate design, even if you pick up a high street version, it will typically cost more than your average non-designer dress. (And it typically looks more expensive than it really is.)
Self Portrait's Azalea dress was actually on sale on ASOS, at €160 down from €319.99, but, of course, it's out of stock. But, I spotted a very similar, very flattering lookalike in Warehouse on my daily shopping jaunt yesterday that has been reduced three times by now and is currently on sale for €84 - the original price was €215.
It comes in four colours, but I love the blue shade, which would be so gorgeous for a spring wedding, or a Christening party or for other things that happen in spring or summer, like Communions or the races, or, a garden party. Hell, wear it to work.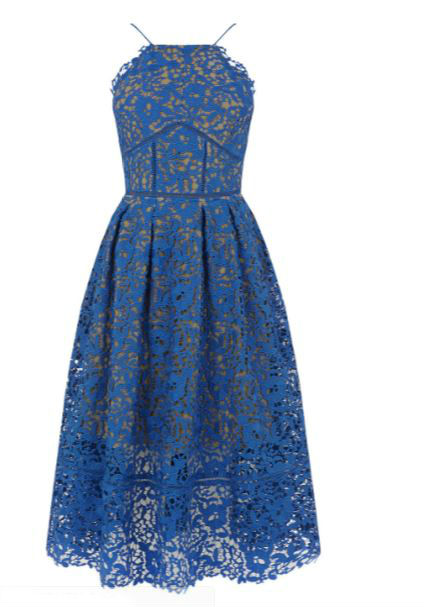 Advertised
The halter neckline suits everyone, and the nipped in waist gives shape. The skirt part gives length, too; the overlayer is slightly longer than the underlayer, and the cutouts will give a sneaky hint of leg.
If you're tempted, hurry! It's selling out online fast.