 They don't market it as a wedding dress; to H&M it's simply a 'long bandeau dress'. But we would be happy to wear this on our big day.
The attitude towards weddings has changed enormously over the past few years. In Ireland, the 'traditional' way was basically the only way for the majority of couples. Church ceremony, nice pics, a reception in a hotel (with an up-all-night residents' bar). The wedding dress was a big deal - as it should be - and it typically took a big chunk of the couple's budget. It was all very nice but so very formulaic. Times have changed.
These are the 11 new engagement party dresses guaranteed to wow.
While the majority of weddings I attend still follow that formula - and there's nothing wrong with it! - many of my friends have taken advantage of changing rules and had their ceremonies and receptions in out-of-the-ordinary venues. They've also played around with other 'traditional' attitudes, like the myth that you have to spend a fortune to have a 'great day out'. Still, the average cost of a wedding in Ireland is €31,000 - an outrageous number, in my opinion. The pressure to have the best day of your life is exacerbated by a price-tag like that. 
This on-sale jumpsuit is the coolest for bridesmaids.
The high street is making things a lot easier. And rather than increase the stress of having a Pinterest Perfect wedding, social media is also helping people realise that a fantastic wedding can be achieved on a lower budget than you might think. When I saw this H&M dress online, I saw a bride in it. Not a budget bride, a bride full stop.
Advertised
H&M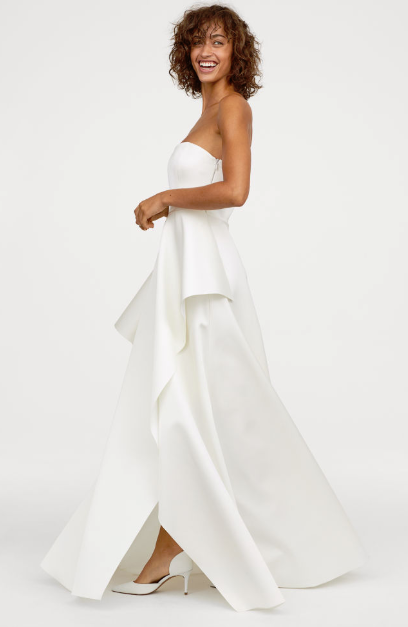 It won't suit everyone and it won't suit every type of wedding, but it is gorgeous and will be perfect for someone planning a beach or summer garden wedding. I can see someone wearing this for the legal ceremony, too, if they're saving their main dress for a wedding abroad or the like. It's a minimalist dress and can be worn as simply as possible, but it's also a blank canvas that can be added to or embellished as much as you like.
Do you like it? Would you wear it as an alternative wedding dress?