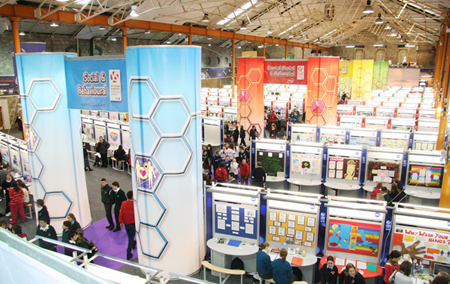 It's an Irish educational staple, cause of much inter-school rivalry and it happens annually in early January in Dublin 4.
Yup, today we're taking you on a trip down memory lane, because the Young Scientist Exhibition is still going strong.  Open to the public from tomorrow and taking place until the 10th of January at the RDS, we happened to notice that there are a range of beauty-based topics this year that show a new side to the event.
In addition to projects studying seismic activity, a look at just how good Wii Fit actually is compared to traditional exercise, and a study measuring the effectiveness of cling film in house insulation, there are some interesting projects with beauty as a focus. Take An Investigation into the Effectiveness of Sunscreens, for example. Students from Abbey Community College in Wicklow promise to, "investigate the effectiveness of commercial and homemade sun lotions. Using a UV monitor we will measure the amount these lotions block UVA and UVB". Useful, not to mention beneficial.
Several projects focus on perceptions and current trends, like those tackling issues such as the size zero debate and body image.  It's great to see teenagers showing awareness and targeting concerns like these, especially as they can be so vulnerable themselves. Size Zero Teen Hero? is being undertaken by students from Blackwater Community School in Waterford, who are out to "prove that size zero models are influencing the health of teenage girls". It'd be interesting to see what they came up with, eh?
Advertised
Similarly, Body Image: Her View Vs His!, a study conducted by pupils from Our Lady's Bower in Westmeath, is based on the difference in opinions between teenage males and females on what the 'perfect' body image in a female is.
There are also two projects looking at makeup. Students from Elphin Community College in Roscommon are wondering, Why do girls wear make-up? "We think that girls don't just wear make-up because they want to impress boys", they say, adding, "we want to find why they really want to wear it".  The second project focuses on the question, Does make-up improve your look?    Conducted by pupils at St Patrick's Academy in Tyrone, the project "will investigate how wearing make-up affects people's first impression of a person. We aim to find out whether or not make-up really does improve a person's appearance."
Head to the RDS until January 10th to check out this year's BT Young Scientist Exhibition. Tickets prices are as follows: Family Ticket: €30 – 2 adults and up to 3 children (Save up to €12); Adults: €12; Students/Concessions: €6. Tickets can be bought at the door for entry to the exhibition from Thursday 8th to Saturday 10th January.  Doors open at 9.30am, exhibition closes at 5.30pm each evening.