 Last week, Amber over at US blog Beauty Blogging Junkie asked me to give her the skinny on my favourite pretty product. Y'know, that one item of bathroom real estate that I leave out on display, better to send my pals into paroxysms of extreme jealousy? So much the better, Amber said, if that gorgeous good-looker worked a treat too.
I thought about it for a bit: I have a lot of nice bottles of scent. I have some really cute palettes ... and then it hit me. My high-performing, show off product would of course have to be something from Guerlain. I go into the reasons for my aesthetic choice over on Amber's blog, but I thought I'd show you my pick over here on Beaut.ie too.
I picked Guerlain's Meteorite's Voyage compacts. These are special, limited edition compacts which the brand release once or twice a year (I think, I could be wrong!) which contain a re-fillable powder pan. They're in addition to the permanent  - and cheaper - collection of Meteorites compacts and loose shimmer balls. These fellers are collectors editions created from weighty metal with inlaid enamel and decorative accents on the lids. They epitomise glamour and luxury. I love 'em. And after all, every gal's gotta have a compact, doesn't she?
I have two: above left is from the current Cherry Blossom collection. This is Mythic and it's €143. Yes, ouch-inducing I know, but these things do not come cheap; Guerlain is a luxury line. The other one I have is Gold Temptation, and it was from the 2007 winter collection as far as I can remember. The shade is Gold Temptation, and it was also around the hundred-and-something mark when it launched.
These are highlighting powders and you can use them to set makeup if you like. Mythic would be a day-time pick for me as it's not too shimmery, but does give a glimmer to a pale complexion. Gold Temptation, by contrast, is a lot more blinging and good for night. You can also use these on specific areas, like the top of the cheekbones, temples, down the nose and on the decolletage.  Last thing I like about 'em? The smell - all Meteorites products contain a retro violet fragrance.
Advertised
More shots and close-ups of the open compacts are after the cut.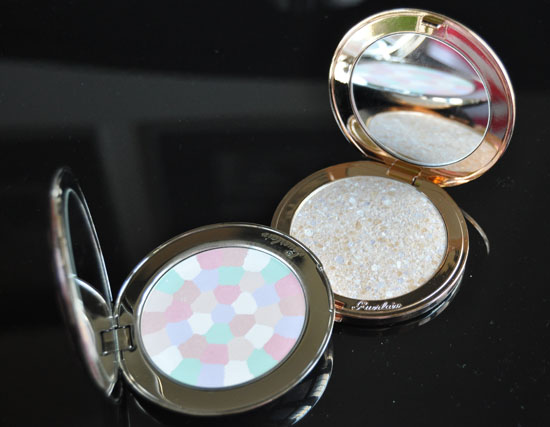 The two compacts, open.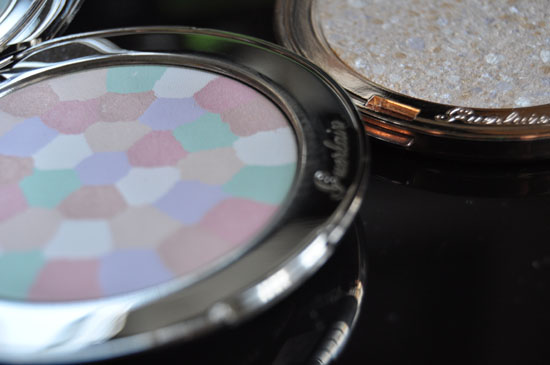 Close-up of Mythic
Advertised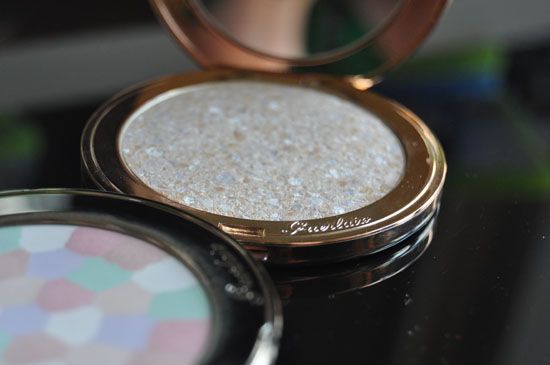 Close-up of Gold Temptation.