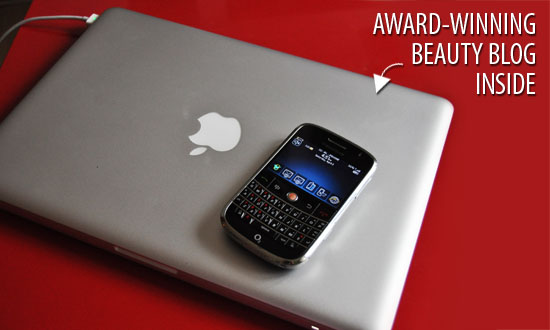 In the wake of our fantastic and unexpected success at this year's Irish Blog Awards, where we scooped the top gong for Best Irish Blog as well as the Beauty/Fashion prize, I thought some of you might like to know a little about the mix of technology, expertise and hard work that goes into the content on Beaut.ie every day - after all, you don't get to win best blog at the IBAs for no good reason.
There's a lot more to building a successful blog than just setting it up, crossing your fingers and hoping for the best. If you want to retain and grow a readership and reputation, then it's actually a huge investment. That can be in monetary terms, for sure, but mostly the investment will come in terms of your time and dedication - and, lets be frank, your talent. If you're producing infrequent, scrappy, crappy content or bitching all the time, there's a limit to how successful you'll ever be.
What you can never underestimate is the strength of organic, natural, growth. That's just how we've done things: because the blog began as a hobby (and to a large part it still is, albeit a professionally-finished one with schedules and deadlines) we never had a marketing schema or even really planned ahead. Instead, when you lot started (very quickly!) reading us, we listened to what you wanted and provided content based on that. We always kept our ears to the ground for the newest innovations and information so we could dish them up to you. We also always strove to be better than we were the week before, and we've achieved that - each year has seen the blog improve in leaps and bounds as we grow in expertise, knowledge and resources. That's then delivered right back to you.
We've put our heads down and worked our arses off, doggedly stayed within our niche despite temptations to diversify, and most importantly of all, completely ignored our detractors, because at the end of the day, what we care about is your experience of the site. If you come here daily, you are the quintessential Beaut.ie reader. You tell us what you do and don't like and we are absolutely primed to respond to that - for example, we added forums and Swap Siopa because you asked for them. At the end of the day, we do this blog essentially because of all of you - and there are a lot of you. Leading me nicely onto my next point ...
Because the blog is so highly-trafficked (20k visitors per day with a million page impressions per month at the last count) Beaut.ie is hosted on its own dedicated server with Blacknight, who we'd highly recommend. It's too big a blog at this point for cheaper shared hosting, so we bit the bullet and moved to a fancy new digital gaff a few months ago.
Lets take a look at the technology we use to make and maintain the blog. Hardware-wise, what I use to do most of the behind-the-scenes work is a MacBook Pro. I've had a Mac laptop for several years, and I upgraded to this before Christmas as I needed more power than my old MacBook could provide. Aphrodite has a trusty Dell laptop that's her essential bit of kit.
My Blackberry is also an integral, and essential piece of Beaut.ie tech. I use this to not only read and respond to emails when I'm out and about, but to Tweet and to approve comments as they come in - we get hundreds upon hundreds a day, many of them from new readers which go into moderation, so it's important to get to them as soon as possible. It's a must-have for me, my third arm, and to be without it now would be a Terrible Thing Altogether.
Advertised
Camera-wise, we use a Nikon D5000 with a Nikon ED 18-55mm lens. We will probably investigate getting a less 'general' lens shortly, and look for something that can really capture the detail in very close-up shots. For the meantime though, we're happy with this and we think it's brought a new dimension to the blog, as well as allowed us to properly shoot swatches.
Software (legally obtained and paid for) includes programs like Photoshop and Dreamweaver, two incredibly important tools in our arsenal. Photoshop is what we use to create the majority of our graphics, which are invariably all created in-house (or, er, on-couch), using a mix of press shots, stock images and self-shot images. We're strong believers that design is fundamental and our logo and blog template were also self-designed and coded. Equally, we spend a lot of time on our images, because we feel that taking the trouble to properly illustrate the unique content we create is a central part of the site. So, if you 'borrow' them - please give us a credit and a link back, eh?
Dreamweaver is the software we use to create and edit the HTML and PHP code of the blog. Most important though, is Wordpress. This is the platform, or content management system, we use for the blog, and it would not exist without it. It's a fantastic, free piece of software with so many functionalities and capabilities and opportunities to extend, that even after nearly four years, we are still finding new ways to manipulate it.
There are many other things we use daily and rely on: Twitter is a huge tool for us, and we send post updates to it using Twitterfeed, which also gives us stats on how our tweets perform in terms of sending users back to the blog. Facebook and our own Forums and Swap Siopa are yet more things we spend time on and we're always looking for ways to improve your experience of the blog, by adding new plug-ins to improve functionality or to give you new things to do and see.
And then of course, there is the book! Last year saw the launch of the hugely successful Beaut.ie Guide to Gorgeous, now in its third reprint. Authored by Aphrodite, it's been phenomenal for us - find out more about it on our book page.
The thing we spend the most time on though, is the stuff you read on the blog every day every day. Our content is 100% editorially-focused, impartial and written based on our experiences and feelings with regards to products and services. You can't buy it. You can buy a banner ad, but on this blog, we fiercely protect our editorial freedom to say what we want and as a result, often turn down advertising if we don't think it's a fit. We're here for YOU, not for beauty brands.
Advertised
If you read Beaut.ie, you'll know it's about a lot more than parroting press releases. We never talk down and we're more than happy to take on the beauty industry's more ridiculous side - recently through our price campaigns, for example. Beaut.ie is about providing advice and information; it's a dedicated place to come and chat, ask questions and get support; a place to tell us what you think; to have a laugh as well as the best place to find out about the latest and greatest cosmetic innovations.
In a nut-shell, doing Beaut.ie to the standard we do it is hard work, and at times there have been a lot of blood, sweat and tears in the mix too. But we do it because we love it, because we've built such a great community, made some brilliant friends and equally, changed our own lives through the blog too.