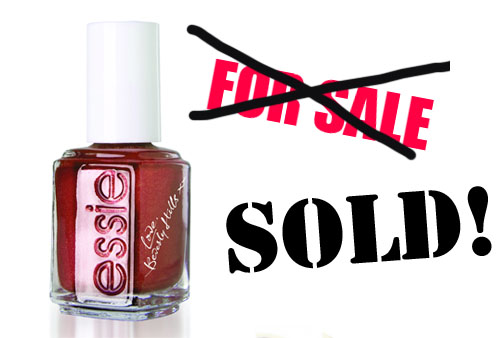 Avon recently bought naturals brand Liz Earle, Shiseido snapped up Bare Escentuals last year for an obscene amount of money and last week's shock news was that L'Oreal has just acquired cult nail brand Essie.
Is there a beauty company out there which isn't being targeted by a major? Smashbox is reportedly under increasing investigation from big players who are looking to make a buy, and with global mega corps like Estee Lauder, L'Oreal and Procter and Gamble owning, oh, pretty much everything out there, it can be worrying if you're a long-term fan of a niche brand when it's bought up by a massive beauty company. Will it be stay the same? Or will the brand values and the things you actually, y'know, like about it change for the worse?
So, while L'Oreal would be foolish to do much to Essie in terms of its brand heritage, shade choice and all-round appeal to hardcore nail fans, there's no doubt they'll lose fans off the back of this - there are plenty of people who never set foot in a Body Shop again following that brand's acquisition. And while I breathed a bit of a sad sigh about this news, lets face it: if a huge, massively powerful company wants to buy your beauty company and offers you squillions for it, well then, why wouldn't you sell?
Advertised
Concerns about homogenisation and bigger worries about the globalisation of beauty brands (and the attendant boringness that can bring for a beauty fan in search of something different) aside, it's been pointed out by industry sources that what this will hopefully mean for Essie and its customers will be a wider availability through L'Oreal's colossal salon network. They own Kerastase, Matrix, Redken, Shu haircare and L'Oreal Professionel - so you can see where I'm going with this.
The other pro is cosmetics. Essie had some lipglosses and their Smoothies handcreams already, but sources are tipping the nod to the fact we may be seeing a full-scale beauty line from the brand in the near future.