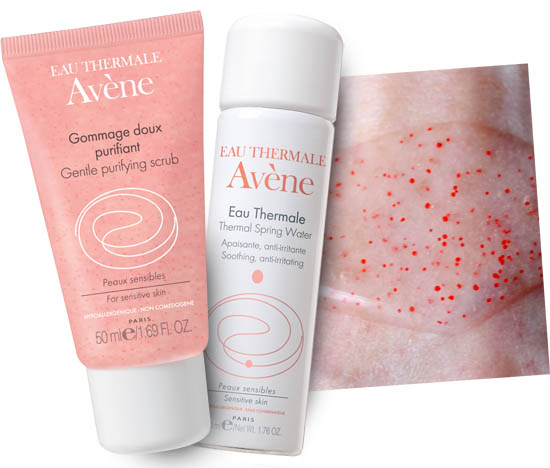 I've used one or two products from the Avene skincare line in the past - mainly sunscreen, which the brand does very well, like so many French thermal water skincare lines - but since the brand has got a wider distribution in Ireland recently, I've been tempted to try out a few more products. So it was good timing when the Gentle Purifying Scrub, €17,  and travel-size Thermal Water Spray, €4, landed in my hands for testing.
Targeted at those with sensitive skin, the Gentle Purifying Scrub uses exfoliating micro-beads (ideal for sensitive skin as the spherical shape doesn't have the jagged edges that some manual scrub ingredients have and therefore less likely to inflame the skin) to lift dead skin cells and a salicylic acid derivative to stimulate skin cell renewal. For some reason I was expecting the standard white cream scrub, so when I discovered that this is actually a clear gel with red micro-beads suspended in it, I was quite pleased to see something so different to what I've used in the past.
The scrub can be applied to wet or dry skin, but I decided to try it on dry skin as this increases its efficacy. It spreads really easily and doesn't drag on the skin or feel the slightest bit uncomfortable. Once I'd massaged it well in, it rinsed off very easily with lukewarm water and while my skin immediately felt smoother and looked clearer, there was no tightness or dryness.
Advertised
Next step was a good spritz of the Thermal Water Spray all over. I love thermal water sprays and have used them from Caudalie, La Roche Posay, Vichy and Evian in the past. Avene's has been clinically shown to be naturally soothing and an anti-irritant and it's the ideal thing to use after exfoliating to refresh the skin and to help your moisture cream to sink in.
Both products are definite keepers for me. The scrub did a fantastic job clearing up the annoying "areas of congestion" that have been bothering me around my nose and I love that I experienced no irritation from use. My skin looked a lot brighter and more clear the following day and as it's so easy to use, this won't add much time to my skincare routine.
Have you used these products or anything else you'd recommend from the Avene product line?