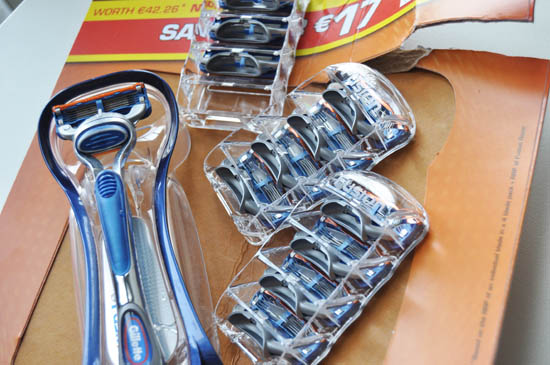 Himself came home clutching a clatter of razor blades on Saturday and I immediately sat up and took notice. Apologies for the pic - he had efficiently unwrapped it and binned the packaging before I had time to get my camera out, so I had to retrieve it from the recycling for your edification and viewing purposes.
No doubt intended as a stocking filler for fellas the land over, Gillette Fusion is currently selling 12 blades and a Fusion razor for €24.99 - four blades alone costs between €12-€15 (I asked the oracle himself, I usually just rob his) apparently, so this is a decent deal. The packaging also trumpets the fact it's worth €42.26, so whatever way you look at it, it's a bargain.
Advertised
And forget buying it for a man - get it for yourself. We rate men's razors far more highly than we do the weak-ass versions for women, so this will be money well spent if you're pissed off with your pink Venus.