 Have you heard about the benefits of using non-scrub based exfoliators to keep your skin smooth and new? This cult classic beauty product is a bona fide skin saviour.
You might wonder how you can exfoliate without scrubbing. But scrubbing your skin with harsh exfoliators is so last decade. Now, it's all about enzymes, AHA's and BHA's. They are the new, more effective and more gentle ways to exfoliate your skin. And this cult classic beauty product does just that. Pixi Glow Tonic uses AHA's to gently exfoliate and brighten your skin.
It's a simple step in your skincare regimen; basically, you use this as a toner. Apply it all over your face, neck and decolleté after cleansing. Use it morning and night and it will gently sweep away all the dead skin cells. It contains 5% Glycolic Acid which penetrates the layers of the skin to melt away the 'skin glue' that holds dead skin cells under the surface of the skin. The end result is hydrated, brighter skin.
Advertised
Pixi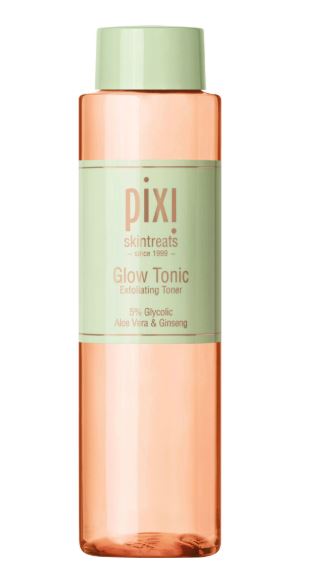 It works for all skin types, too. It will hydrate dry skin, refine pores and help to reduce pigmentation marks from sun damage, and it feels really gentle on your skin. My skin feels really clean after using it with a slightly tacky residue on it. It has an unremarkable scent. You just get hints of Aloe Vera which is in there to soothe your skin while the Glycolic does its work.
It's a 100% recommend-to-friend product that I'd now be lost without.
Advertised
What do you use to exfoliate your skin?