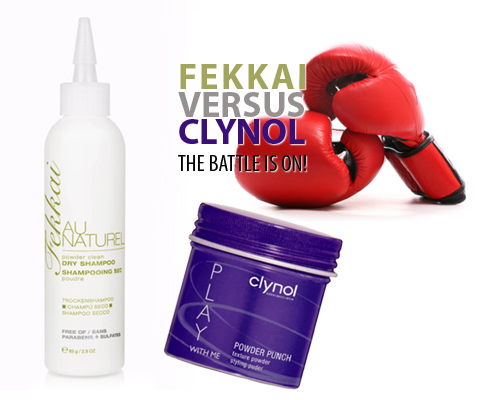 You'll know we love dry shampoo - Batiste, Bumble & bumble, James Brown, oh, they've all had a look-in on the blog.
We've also checked out hybrid doofers from Aveda and Schwarzkopf - these, while powder in form, are more styling aids, and less true dry shampoo. So today, lets pitch two new powder/powder styler products against each other and see how they perform.
Clynol Powder Punch is in the latter camp, and Frederic Fekkai's new Au Naturel Dry Shampoo is firmly pitched in the former.
Lets begin with Powder Punch. Only available online to us Irishers, rrp is £10.60, but it can be gotten for £9.95 on Hairsupermarket.com. I tested this on freshly washed and conditioned hair, and let me start by revealing this: I hate my hair on the first day after shampooing. It's limp, prone to triangle-head and it feels like candyfloss. In short, I'm completely blaaaahh about it.
So I lashed a dollop of Powder Punch into my hand and worked it through the roots. It goes slightly sticky so you can manipulate it, and voila - instant 60s-esque volume, albeit of a crunchy sort. Don't use this if you intend to have a handsome man run his fingers through your mane later. He won't be able to, basically. But this is one of those products that I call 'quick and dirty'  - it might not be sophisticated,  but it works.
Advertised
Downside? It does give a slightly matte look, and the holes in the lid which dispense the product are quite big, so it's easy to shake out too much - or shake it all over your laptop, like I did. While Macbook application is not recommended, this is great for getting volume and hold into fine hair quickly, without having to resort to gel, mousse, big rollers and endless blowdrying. Thumbs up.
Next, Fekkai's new Au Naturel Dry Shampoo, €25, (€21.25 on HQhair) sets itself apart immediately by having a nozzle dispenser instead of the more usual spray. I was a bit 'errr - low tech' about this until I actually tried it -  the nozzle makes it way easier to precisely place the product where you want it, as opposed to spraying it all over your hair, your clothes and the bathroom walls. Yes, I have had white-wall-accidentally-painted-brown-from-Bumble & bumble-product disaster.
So you can just carefully put it down partings if you want, or of course shake it into your hand and apply all over.  It's got cotton in it to absorb oil and actually, it's made from 99% natural ingredients - the eco-slant here is by using it, you conserve water.  Plus there is absolutely loads of it - you get 83g in the bottle, which helps justify the price tag.
It feels dry and slightly gritty to the touch, but once in your hair, you can't see it, which can be a problem with cheaper products like Batiste.
Advertised
The final verdict? If you've got the cash and want a top-notch dry shampoo, then Fekkai's Au Naturel is the one for you. While it can't give the hold of the Clynol product, it will help to plump up fine hair and provide a key for styling on freshly washed locks.  Plump for Powder Punch for full-on wig-out (pun totally intended) madness.