 Now, we're not saying that Ryan is going to regret this but this has given us food for thought. And, yes,  you should probably gird your loins against swooning because Ryan Gosling may have just done something that will make you re-melt all over him. If you know what we mean.
Or it may turn him off you completely. It's a 50/50 risk, so proceed with caution.
Gosling has reportedly had his daughter's name tattooed on his hand, after he was spotted with the shortened version of her first name 'Esme' inked on the knuckles of his left hand.
Gosling and Eva Mendes welcomed their six-month-old baby girl, Esmeralda Amada, into the world last September and made no attempt to hide the letters after enjoying a lunch date with friends at Little Dom's in Los Feliz, Los Angeles on Friday.
But it's not yet known if the markings are permanent or whether they were drawn on with pen, as Gosling previously admitted all of his tattoos look 'homemade' and 'ridiculous.'
Advertised
Speaking in 2007, the actor, who also has a tattoo of a barcode on his left wrist and a picture of a monster's hand dropping a bloody heart on his left forearm, also said: 'A tattoo should never be meaningful, because at a certain point you're going to hate it, and it might as well make you laugh.'
So it sounds like he is up for a bit of regret - he'll always love Esme but will he always love scrawly letters on his knuckles?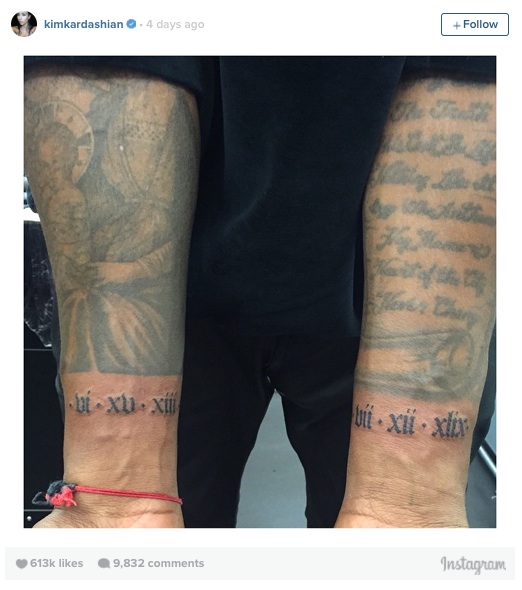 And Gosling's not the only new dad to get inked in honour of a child this week, as Kanye stepped into a tattoo parlour in London after the Brits and came out with North West's date of birth across his wrists.
But sure it's possible he thinks that it's Latin for harder, better, faster, stronger.
Advertised
So tell us, have you ever looked at your ink and thought 'what the hell was I thinking?', or do you love all your tattoos as they once represented something very special to you? To the comments! (And possibly the laser clinic).