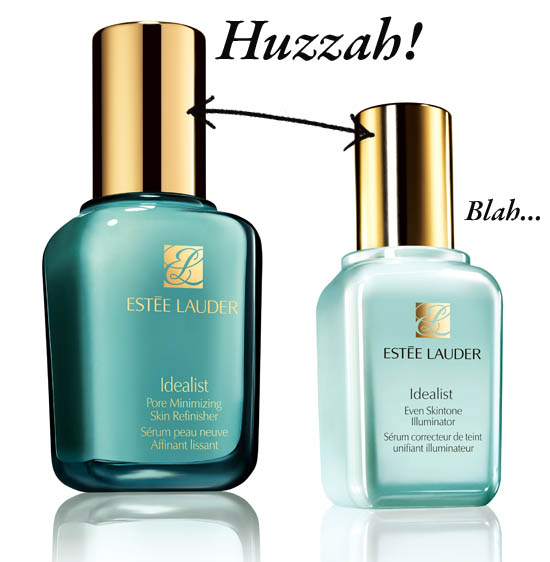 The super-duper new Idealist Even Skintone Illuminator from Estee Lauder has been the subject of rave reviews from the blogosphere as well as print and broadcast media since its launch during the summer, so you know I had to buy myself a bottle of the stuff just at the first opportunity for a trip through the airport duty free presented itself.
I've long been a fan of their original Idealist Pore Minimizing Skin Refinisher, from €50 for 30ml, but for the last few months I've been less concerned with the hack of my pores than my lacklustre, uneven skintone and I had high hopes that its iridescent cousin would be able to sort me out with a luminous complexion while simultaneously dealing with a few dark spots.
Light-reflecting particles meant that the look of my skin improved immediately on application, but I didn't notice a longer-term benefit to my skintone and, despite being oil-free and non-acnegenic, Even Skintone Illuminator left my skin congested six ways to Sunday.
Advertised
It might have been no good for my skin but at least one good thing did come from the purchase: I was able to swap Even Skintone Illuminator for a bottle of my old flame. I shouldn't ever have abandoned Pore Minimizing Skin Refinisher for the skincare equivalent of the emperor's new clothes, but I'm happy to report that the old reliable doesn't appear to harbour any bad feelings and still performs consistently for me.
Used under my regular moisturiser, it doesn't just reduce the look of pores: as the name implies, it refinishes skin to leave it looking velvety soft and feeling silky smooth. Clogged pores are rectified. Dry patches vanish. Make-up glides on.
Idealist Pore Minimizing Skin Refinisher is an oldie but a goodie. It does exactly what it says on the tin, and I flipping love it.
Get Beaut.ie Delivered
Stay updated with Beaut.ie newsletters full of the latest happenings at Beaut.ie as well as great offers and things we think you might find interesting .