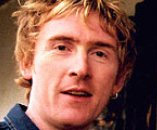 Hector isteach sa teach, a cailini! Feach ar mo handsome face!
When I do be travellin' round the globe for me holiday programmes, I do be getting a bit on the auld embarrassed side about my milky Irish complexion. Is maith liom an ghrian, but an ghrian doesn't like me much lads! And sure it doesn't help that I always wear my sunglasses on me head, wha'?
Advertised
I'm lettin' yiz in on a little secret here - to blend in with the locals, I lash on an auld bit of L'Oreal Men Experte Anti-Dull Skin Tanning Moisturiser - I get a lovely golden glow, and my cheeks are as smooth as a baby's arse!