 Finding a great fake tan is always enjoyable. When the formula you pick doesn't smell bad, doesn't streak, gives the perfect summer glow, and dries fast you know you're on to a winner.
In Ireland, it's very hard not to resist bronzing up, especially when everyone else is. You don't see many bare white legs walking around during summer. It's great when you do - there is nothing wrong with your natural skin colour - but even when the majority of the population are born pasty, white legs is a rare sight.
The beauty industry knows the Irish obsession with tan (we can say it because, come on, it's true) and we have hundreds of brands to choose from. While most people find their favourite and stick with it, we have to tell you about this new one. It's Irish, it's cheap, and it's good.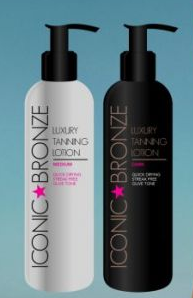 Iconic Bronze €12 - available from Penneys
There has been a big buzz around Iconic Bronze in beauty circles. Jessica Shears from Love Island is the face, and Irish sisters, stylist Laura Mullet and makeup artist Jade Mullet, are the brand ambassadors.
Advertised
We tried it, and we're impressed. It's moisturising, which is great given our dry flakey legs (which we exfoliated 24 hours before application, of course!). The sunflower oil and omega ingredients leave skin nourished, too; always a bonus with tan as we don't want it to fade patchy. It blends in easily (we used it with the designated mitt (€8) which is good, too) and it dries fast.
It gives an olive toned glow that may be a bit much for those who don't tan all the time, and it only comes in two lotions shades, medium and dark, which is, again, restrictive. Iconic Bronze is for the lady or gent who likes to look tanned tanned - feck the subtle glow!
As for the smell, well, it's delightful! You can never have a totally "non-tan" smell because the tanning ingredients just won't let you, but this disguises it as much as possible. It's both fruity and flowery, but not too overpowering at all.
Fake tans have come on so much over the past few years. Us Irish have high standards! Iconic Bronze would have to tick the obvious boxes for people like Jessica Shears and Laura and Jade Mullet to endorse: easy application, not streaky, high levels of moisture, not a stinky smell. And this ticks them all.
The best thing about it is the price. It's only €12. It would be rude not to.