 We have been impressed greatly by the new Dermalogica BioLumin-C Serum. Here's why absolutely everybody could benefit from using it.
We have talked about how much your skin needs vitamin C a lot here. It's one of our very favourite skin ingredients. Vitamin C is not naturally occurring in our bodies, so it's really important to feed your skin and your body with it. You can get vitamin C from foods but you can also apply it to your skin in your skincare. The BioLumin-C Serum is a really potent form of vitamin C goodness that you can use every day.
Dermalogica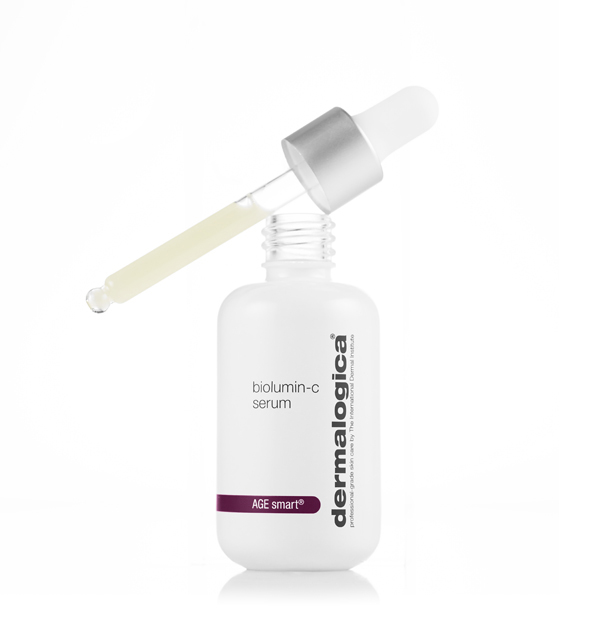 Dermalogica BioLumin-C Serum €95.50
Advertised
BioLumin-C Serum can be used each morning and night. Because it's a serum, it goes on your skin after cleansing and before your moisturiser and makeup. Serums tend to be a more watery consistency than a cream and penetrate deep into your skin. What makes this Vitamin C serum special is that it is an ultra stable form or the Vitamin C complex. This just means it's delivered to your skin really effectively.
Vitamin C is one of our favourite skin boosting ingredients because it does so much for your skin. This serum helps the skin to defend itself from oxidative stresses in our daily environment. Thanks to its superior formula, it outperforms other Vitamin C products. It's got Palmitoyl Tripeptide-5 to firm your skin and reduce the appearance of your lines and wrinkles. Lactic acid, Sophora Japonica flower extract and Chia Seed brighten, protect and seriously hydrate your skin.
You use this day and night. Dermalogica recommends you use a full dropper but I find about three drops enough to cover my face and neck. It's unscented but it smells nice, like bitter orange. I have been putting an SPF moisturiser over it during the day but I have been wearing it by itself to bed at night.
Do you incorporate any skin boosters into your daily routine?