 When you have a skin emergency, this is the cream you should turn to for comfort and healing. Emulsifying lotion is on call for any SOS skin situation.
In light of a recent skin SOS situation, we discovered the power of an old-fashioned emulsifying lotion. Just last week my sister had a severe skin reaction. To what, we are unsure. It could be a retinoid reaction to her retinol skincare or it could be a reaction to something she came in contact with. Either way, it was a scary experience. It really brought to light how a skin flare up affects both your life and your self-confidence.
We are talking about a skin reaction here: severe redness, peeling, burning and itching sensations. This is not a treatment for an acne breakout. In this case, the skin had a sandpaper texture, rough, dry and bumpy. It was flared up and red. Putting makeup or anything at all near it was a definite no! After hydrocortisone creams and antihistamines didn't work we resorted to an old-fashioned emulsifying lotion.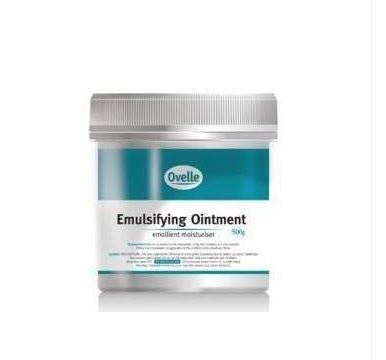 Advertised
Emulsifying ointment is intended for severely dry skin conditions and eczema. You can use it instead of soap to wash and cleanse your skin and you can use it as moisturiser. It is a mixture of paraffin oils and water that acts as a moisturiser. It leaves a greasy film on your skin to stop water evaporating from the surface. In our case, it softened the dead skin on the surface and allowed it to shed. The super oily texture gave total comfort from the tight sensation and it was the only thing that didn't burn. My sister did have to visit her GP and got a prescription to heal the problem but this was the only skincare product she could put near her skin. For the duration of the problem, it gave comfort while allowing the skin to heal underneath.
We will be keeping a large tub of this in the cupboard for all future skin emergencies.