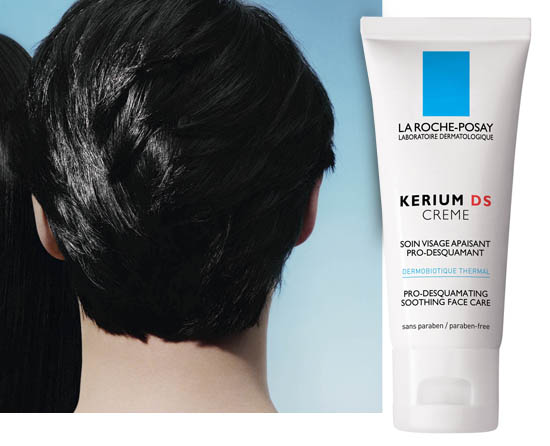 If I had any (very small) criticism of La Roche-Posay as a line it'd be that the saminess of the packaging can cause me to overlook new launches.  And that's a shame becuse this is a brilliant, affordable brand for anyone with a troublesome, reactive skintype. That's one of the reasons it's so popular in Ireland where we tend to suffer from a lot of skin sensitivites and complaints like rosacea.
And though I live with an Englishman who has a tendency towards a bit of psoriasis/redness and flaking skin on his face, I reckon we can blame a lot of it on his Irish roots. I've revealed his embarrasing skincare secrets before - he's partial to a bit of Creme de la Mer and in truth it's probably worked the best for him out of all the products he's trialled over the years.
Back to the packaging thing: after he'd scraped the last remnants out of his last pot of CDLM and didn't want to lay out the cash to replace it, I had a vague memory of being sent something from La Roche-Posay that I thought might do the trick. A quick root through my press samples located Kerium DS Creme and I gave it to him to trial.
This is actually designed to calm seborrhoeic dermatitis by strengthening and reinforcing the skin's immune defenses. That helps to  reduce the patches of red and flaking skin on the face. Inspired by research into probiotics, it has a high concentration (5%) of a natural active called thermal dermobiotic. Quite simply, this worked for him.  And one of the best things about it is that it costs just €11 for 40ml. Which is, I think we can all agree, an excellent price for a performance product.
Anyway, don't take my word for it. I conducted an in-depth interview with him last night. Here are his eloquent thoughts on Kerium DS Creme.
Advertised
WHAT IT DID: "it made skin ... not red"
EFFECTIVENESS: "yes"
PRICE: "very good"
BETTER THAN CREME DE LA MER: "well, it's not as good but seeing's as it's a fraction of the price then yeah, I'd say it's a much better buy"
WOULD YOU RECOMMEND IT: "yes, it's good for people with irritated skin"
Advertised
ANYTHING ELSE? "yeah, stop asking me stupid questions, I'm trying to play DC Universe online"
Right so. There you have it, from the mouth of a man.