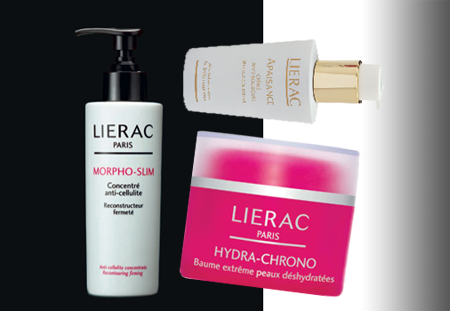 Whatever that French filly with the whip-smooth legs is having, I want it. Turns out that something might be from Lierac, a Gallic brand with a great rep on the continent and beyond.
Not in-store for us Irish ladies, but we can purchase these high-end products  at surprisingly affordable prices online from stores like HQhair and Strawberry. Where naturellement, we get to take advantage of the current exchange rate bonanza. And of course, there's really nothing like a little sciency, pharmacyesque French skincare, is there?
Lierac's star product is their Morpho Slim Anti-cellulite Concentrate. Retailing at €39.25 on HQ, it has a special complex containing 10% Active Caffeine and 2.5% Glaucine Complex, which - get this - helps to reduce cellulite and morphs the skin into smoother contours.
Advertised
Cellulite-sceptic? Not to worry:  the brand's skincare sounds very promising. I want to get my paws on the Hydra-Chrono Baume, €39.25, an extreme balm for dehydrated skin, and those with rosiness might like Apaisance Anti-Redness Cream for broken capillaries, €30.25, ideal for hydrating sensitive complexions.
There's also, as you'd expect, a whole heap of other products for skin and body. I've not had the pleasure of trying any of Lierac's stuff myself, but I'm betting  some of you Beaut.ies have - leave us a comment and let us know how you rate the brand.