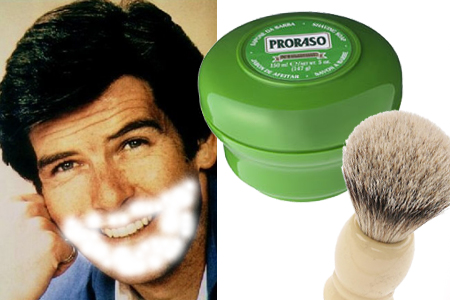 Oh how we've missed Remington, our man of mystery who pops in every now and then to give us a few words of wisdom on the man-products he tries. He's back! BACK! And he's been testing out some shaving products. Take it away, Remington:
"The lovely Kirstie (that's right, I am lovely - Kirstie) gave me a tub of Proraso to try out and report back to her some time ago. To my shame it has been sitting in my bathroom for about a year unloved and totally forgotten about, until this week that is. What with my endless seething about loosing the Bond franchise and my appearance in Mamma Mia I didn't have time to pop to Boots and replace my usual can of shaving gel. So on a frantic search of the bathroom cabinet for something to lather with I rediscovered the Proraso and decided to give it a go".
"Unlike gels etc, you need to work up a lather, like you would with a bar of imperial leather, and apply where you need to shave, which in my case was the bottom half of my face. Initially it does feel a bit strange, especially if you are use to using gels and foams but you get over that fairly quick. The covering is obviously less thick than with gels and foam and this actually makes seeing where you need to shave easier. Might be handy for the likes of George Michael or Derren Brown with their fancy chin attire. It also provides a nice clean shave and if used with a good razor shouldn't irritate even sensitive skin, which I actually have. It's quite old school in its ways, like something your dad or granddad even might have used, which I like".
Advertised
"What I also liked is the fact that it looks like it will last for ages, its not in an aerosol can and the packaging it totally recyclable, all things to help the modern man reduce his co2 emissions. You only need invest in a shaving brush, which costs about 6 euro and is available in chemists. The only thing to watch out for is that it is a soap and you would most def need to use a moisturiser afterwards as it could leave you skin quite dry. All in all I liked it a lot".
Buy Proraso at supermarkets and pharmacies, or from 4men.ie for €7.95.