 I've written about my love of Simple skincare products before - their Refreshing face wash cleared up a stubborn bout of spots in a jiff, and no other wash has ever done as good a job of keeping my breakouts at bay. Affordable, natural, and great for sensitive skin? Sign me up FO LIFE.

No surprise then that I was very interested in their newly launched skincare routine, Simple Sense. A super easy online survey asks you a couple of questions about your lifestyle, stress levels and diet, and boom - you have a personalised, targeted skincare routine, complete with advice from top experts in nutrition, fitness, skincare and psychology.
The survey informed me that I need to Treat, Nourish and Protect my skin, meaning I need to get my ass in gear with SPF, proper cleansing and eating loads of fruit and veg to pump my skin full of vitamins.
What I like about the advice is that it doesn't explicitly say you HAVE to use Simple products - it just tells you what you should be doing to improve your skin, whether you're using Creme de la Mer or Aldi brand cleanser.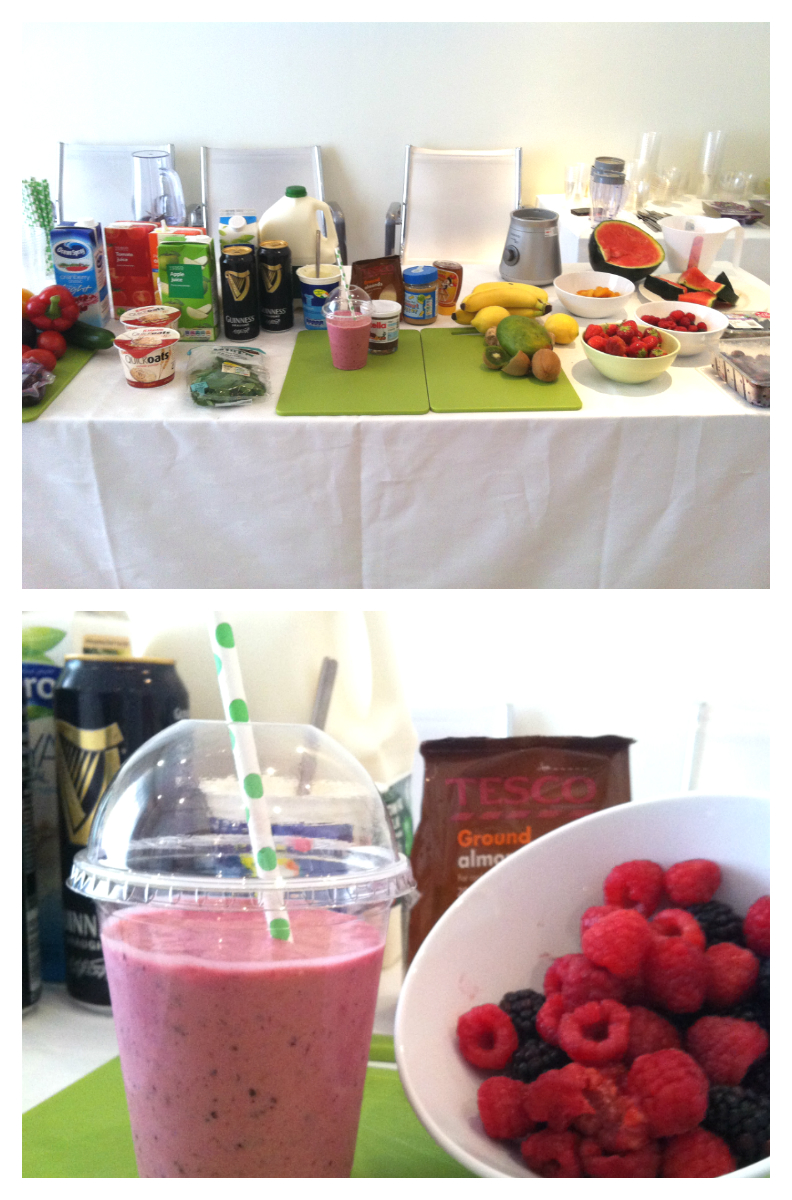 Advertised
I popped along to the launch this week to have my skin evaluated by the four lovely experts, face to face - make up artist Caroline Frazer (Anyone else remember her from Olay ads years ago? I do), personal trainer Anna Reich, nutritionist Fiona Hunter and psychologist Dr Chris Bundy. With the help of Fiona I made a yummy smoothie from their table of fresh fruit, then settled down to have the riot act read to me over the state of my health - or so I thought.
It's what I expected to hear, really: a healthy, well-balanced diet, regular exercise, lots of sleep, and a proper skincare routine will get your skin glowing in no time. No fancy lotions and potions, just honest-to-goodness clean living. See? It's simple! (Geddit?)
I mentioned to Caroline that we're not fond of makeup wipes here on Beaut.ie, and she was astonished. Yep! She says makeup wipes (or at least the Simple makeup wipes) contain the exact same ingredients as a cleanser, and that she herself is a huge fan of them as a quick, easy way to remove makeup. She said by no means would she substitute them for a good cleanser, but not to feel bad about having a cheeky wipe every now and then. So there you go guys - word from a skincare expert. Wipes are A-OK!
Advertised
Will you be checking out the Simple Sense survey? Let us know how you get on!