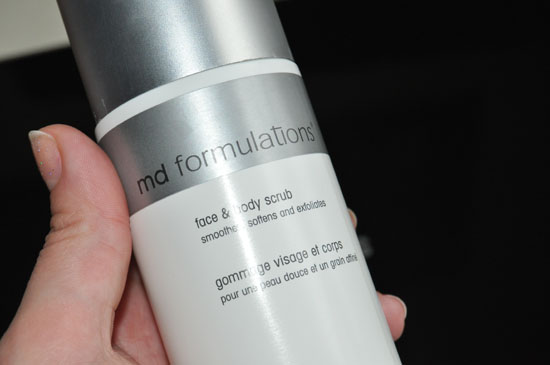 Lets get the bad news out of the way first, shall we? This is €40.50 - a lot for a scrub, as I'm well aware, but that's probably the only scary thing about this product. I shall explain:
Revive Express owner Una McGurk pressed this into my hands a couple of months ago, urging me to try it. Apparently great for sloughing off fake tan - I dunno about that as I hate the stuff  - I've discovered that this is a bit of a multi-functional wonder. You get 250ml in the bottle, so a lot of bang for your buck, and yes, it's suitable for use on both face and body.
The tan-scrubbing function aside, I've been using this for a while on my arms and chest, applying it to dry skin for more friction. Containing glycolic acid, this did make a difference to my fairly mild dose of Keratosis Pilaris, unclogging the keratin plugs in the pores that cause the problem, and because it's so fine-grained and quite creamy, it really deep-cleans without causing stinging skin or irritation. That's a big bug-bear of mine with cheap exfoliators, particularly those containing oh, shall we say, crushed up apricot kernels.
Advertised
So lets recap: fake tan scrubber-offer and prepper; corned-beef arm improver and general body skin softener. That's four functions, but there's more: if you've a combo-to-oily skintype I think you'll love this for use a couple of times a week as a facial exfoliator. It's scrubby without being sore, and the glycolic acid again will help to control oil while sloughing off dead skin cells.
A check online reveals that the brand say it's suitable for dry and mature skins too, but I'm personally not a huge fan of the resurfacing ways of glycolics and find that my skin is left just too dry. Once a year I do like a peel, and will handle the croco-complexion until the top layer sheds, but for me at least, I don't want to deal with that on a weekly basis and find that my Eve Lom routine is ideal for my skintype.
We're all different though, and I think this is a winner for lots of reasons - you'll find it at Revive Express on Dublin's Dawson st, and MD Formulations also tends to be sold alongside Bare Escentuals, as they're sister brands.