 If you are not following the powerhouse that is 'The Skin Nerd' you should be.
Jennifer Rock, CEO and founder of The Skin Nerd, award-winning dermal facialist, skincare trainer, and bestselling author has been our very own skin guru for years. Receiving a plethora of messages daily, from women needing skincare advise.
As one of those women, I can say Jennifer was so helpful and takes the time to reply to every message. We here at Beaut are delighted to support Jennifer on the launch of her much anticipated skin care range, Skingredients.
Skingredients is your skin's balanced diet, a collection made up of the key ingredients that your skin needs.
The highly-anticipated range has been formulated unisex, for people of all ages and is customisable to your individual skin care needs.
Skingredients targets skin concerns rather than skin types because your skin is an ever-changing organ that requires different results-driven ingredients at different times and specific core ingredients all the time.
Having consulted with 10,000 clients through Nerd Network online skin consultations, Jennifer and Team Nerd have a real understanding of what people want from their skincare.
Skingredients is set to launch in Ireland on June 6th2019 and The Skin Nerd HQ has their sights on global exportation over the next 18 months.
Jennifer says the range has been two years in the making – "Results-driven skincare can be so expensive and unattainable. I wanted to make it simpler. My belief is that you need to mirror what you're putting into your body with what you're putting onto your skin. Skingredients is a simple capsule range designed to empower hoomans with regard to their skin and boost their confidence."
There are seven products in this capsule collection, the Core 4 plus three Mix + Match products to tailor your own Skingredients recipe. All products are completely fragrance-free because "smells don't change cells".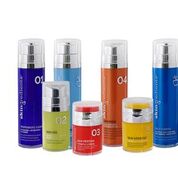 CORE 4 PRODUCTS:
The Core 4 are the four products that everyone needs, including the Skingredients that are integral to skin health.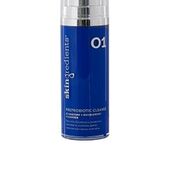 01 PreProbiotic Cleanser €25.00
Hydrating + Nourishing Cleanser
Good bacteria isn't just for your gut.
A daily cleanser with a prebiotic-probiotic complex and PHA (polyhydroxy acid), PreProbiotic Cleanse is designed to help to restore the skin's flora and keep your skin nourished, soft, plump and hydrated. This is a featherweight lotion with the muscle to remove eye makeup as well as the remains of the day.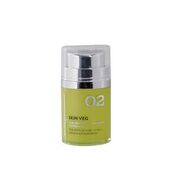 02 Skin Veg €42.00
Pre-Serum + Penetrant Enhancer
The anti-inflammatory, antioxidant goodness of vegetables for your face.
Skin Veg is your skin's 10+-a-day, a hero, highlighter and hydrator. It works to prep your skin to best absorb the active ingredients in your other products with penetrant-enhancing PHA (polyhydroxy acid).
It also provides your skin with tonnes of goodness, including extracts from tomato, broccoli and cucumber, as well as liquorice root, aloe vera, beta-glucan, beta carotene and hyaluronic acid, and a -proven pro-collagen peptide, to brighten, exfoliate and hydrate your skin.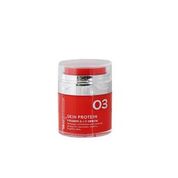 03 Skin Protein €42.00
Vitamin A + C Serum
Advertised
You need protein for your muscles, your skin needs vitamins for its proteins.
A vitamin A and C serum formulated to protect and maintain healthy skin, Skin Protein is an all-rounder that revamps, revitalises and restores for smoother, tighter, firmer, hydrated and generally healthier skin.
Containing two forms of vitamin A, vitamin C, vitamin E, a clinically-proven pro-collagen peptide, essential fatty acid rich sunflower seed oil plus super potent antioxidants such as green tea extract, it supports your skin while protecting it from environmental damage.
This product is ideal for mixing with other serums. Not suitable during pregnancy.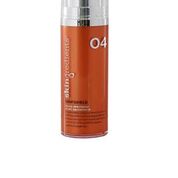 04 Skin Shield €42.00
Broad Spectrum Light Protection
Your skin protects your other organs but what protects your skin?
A broad spectrum physical SPF 50 to shield your skin from UVA and UVB rays, infrared and HEV light, the light emitted from computers and screens. The moisturising, non-comedogenic mineral SPF base provides daily protection with niacinamide to defend from free radical damage, while the universal peachy tint dries to a dewy but not shiny finish.
Water-resistant, oil-free and perfect as your primer.
MIX + MATCH PRODUCTS:
The Mix + Match products allow you to spice it up and target skin concerns specific to you when you need them. Simply add these products to your Core 4 regimen when your skin needs that little bit extra attention.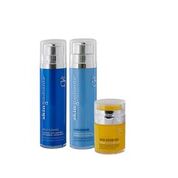 A-HA Cleanse €25.00
Exfoliating Cleanser + Resurfacing Micro-Mask
A nightly-use exfoliating cleanser and resurfacing micro-mask with 2.5% lactic acid and PHA (polyhydroxy acid). A-HA Cleanse very gently exfoliates, cleanses, and brightens your skin, working to boost your natural moisturising factor for extra skin hydration too.
Ideal for those with normal, dry or dehydrated skin, and pigmentation or uneven skin tone. Great for turbocharging your routine.
Sally Cleanse €25.00
Salicylic Acid Cleanser, Spot-Zapper + Micro-Mask
2% salicylic acid: the most you can legally have in a product in the EU.
Sally Cleanse is a 2% salicylic acid cleanser, spot-zapper and micro-mask. It works to dissolve debris within the pore to halt spots at the source whilst reducing oil production too. Whether you're a bit too oily for comfort, suffering from blackheads, or have those pesky under the skin bumps or dastardly chicken skin (keratosis pilaris), Sally is your gal.
Ideal for oily, spot-prone skin as a pore-clearing deep cleanse once every second night alongside PreProbiotic Cleanse.
Skin Good Fats €42.00
Ceramide Barrier Balm
Not just a moisturiser, Skin Good Fats feeds your skin's barrier with what it recognises.
A barrier balm that provides your skin with a skin-native ceramide, essential fatty acids and a patented anti-irritation ingredient. Replenishing the good fats that your skin uses to lock in moisture means happy, plump, hydrated and less irritated skin. It's your night cream and moisturiser, protecting your skin from irritants whilst boosting its barrier and soothing it. Ideal for those with dry, itchy, annoyed skin.
All products are cruelty-free, fragrance-free and free from animal-derived ingredients. A percentage of profit from the Skingredients range will be donated to a charity which will be rotated annually.
Skingredients will be available in pharmacies, department stores and selected salons nationwide from the 6th of June 2019.
Advertised
Congratulations again Jennifer we can't wait to try the range!